Ruth's Chris Steak House At Bloomingdales.
To gear up for The First Annual Orange County Restaurant Week, 13 top Chefs from participating restaurants are demonstrating the preparation of their signature dishes.  Today Ruth's Chris Steak House Chefs showed us how to prepare their Sweet Potato Casserole and Creamed Spinach.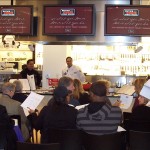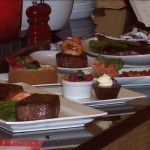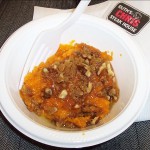 And this is 'Ruth' of Ruth's Chris Steak House.  Her last name isn't Chris, but you'll need to learn the rest of the story regarding the name on their website.  The Chefs pre-prepared the Steaks, Shrimp and Desserts pictured above, but we didn't get to try them.
If I ordered the Sweet Potato Casserole in the restaurant, it would be for Dessert — It is sweet city!  And my rechargeable battery conveniently died at the Creamed Spinach.  That's okay, because I really wanted the Steak they weren't serving.

Ruth's Chris Steak House: http://www.ruthschris.com/
The Loft at The Montage Laguna Beach Cooking Demonstration:
http://www.ineedtext.com/FoodBlog/?p=2489
Orange County Restaurant Week INFO:
http://www.orangecountyrestaurantweek.com/