Long, low and slow baby was my answer to a friend who asked how to make a Beef Roast turn out fork tender cooking it in the oven.  She wanted a recipe, but I didn't have one.  I just know the framework.  I experiment too much, a big reason for Nibbles of Tidbits… to document successes and failures, to remake successful dishes and learn from the misses.  And luckily most Beef Roasts in my past have turned out tender, but you need to have the time (and patience) — It can easily be achieved in a Crock-Pot in 8 – 12 hours, or in the oven with a little more maintenance in 3 – 4 hours, depending on Beef size.  The provided recipe uses the oven.
It's not an original recipe, but one made by my Mom throughout my childhood — It's not uniquely her recipe either and perhaps you've seen or made it before, HOWEVER it can be relied on to yield a consistently fork tender and tasty Beef Roast every time.  It's easy too.
I made it a lot when I first moved out, though still had to call Mom to verify its simple ingredients (Beef, Beef Broth, Wine, Lipton Onion Recipe Soup & Dip Mix, Oil and S & P), as detailed in step-by-step photos and instructions.  Both Red and White Wine work well.
Trim the fat — You know, the area hidden at the grocery store, inevitably on the bottom.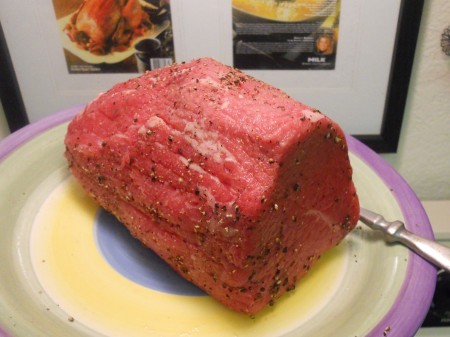 Over the years, I've found almost any cut of Beef works with this recipe.  I usually buy what looks good, what's priced well and what expires last.  The one used here is 2 1/2 lbs.
RECIPE:  1 Beef cut (2+ lb. Top or Bottom Round, Eye, Chuck, Sirloin, Tri-tip, etc.), 2 Cups Beef Broth/Stock, 2 Cups Wine, 1 Packet of Lipton Onion Recipe Soup & Dip Mix, Oil and Salt & Pepper.  Combine all as shown and noted below to make a perfectly tender Beef Roast.
Preheat oven to 325° — S & P Beef and sear on all sides in a little Oil.
Turn off burner and add Lipton Onion Recipe Soup & Dip Mix to the pot.
Add the Beef Stock/Broth.
Add the Red or White Wine — Note that Red Wine will darken the Beef a bit, which is sometimes a good reason to use White Wine.  It could make final presentation prettier.
All is combined and ready for a 3 – 4 hour oven tour — At this point, I need to point out a major faux pas… The pot I used to make the pictured Roast is way too large/tall, which allows excess air around the Beef, thus drying it out.  It was still flavorful and flaky, but drier than preferred.  For best results, prepare the Beef Roast in your smallest Dutch oven.
Cover and bake in the oven.
Turn Beef every 45 minutes or so.
Turn again.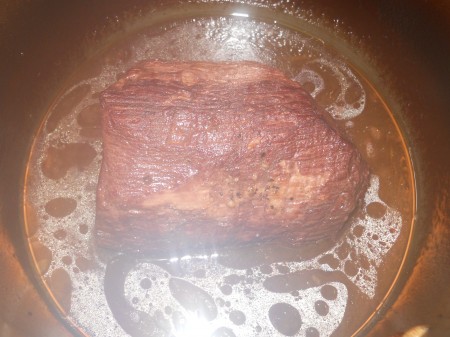 After 3 1/2 hours, remove Roast from pot, wrap in foil and let rest for at least 15 minutes.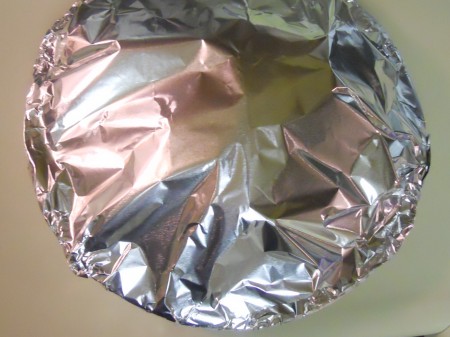 Make a quick Gravy by boiling the remaining liquid with a little Flour and Water.
RECIPE Alternate:  Mom prepares her Roast in a smaller pot, as recommended, and simply combines (1) Can of Beef Broth, (1) Can of Wine (using the Broth can) and Lipton Onion Recipe Soup & Dip Mix — Cooked at 325° for 3 – 4 hours depending on Beef size.  Need more info?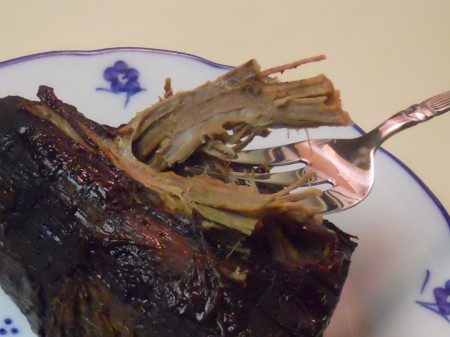 It pulls apart easily, ideal for Sandwiches, Tacos, Burritos and more.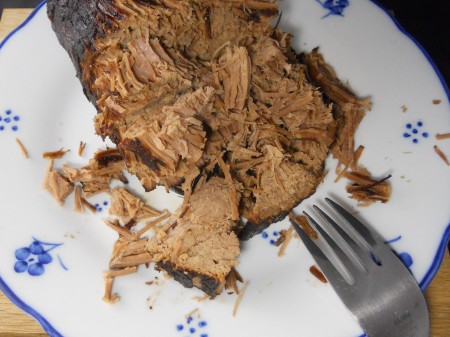 Or just shred and top with favorite Gravy — It's how I like it best.
This post was prepared in response to a friend's question and for submission in the Orange County Fair's Culinary Arts Food Blog Post Competition.  And the next Beef Roast will be tender (a happy given) and less dry with a smaller pot to fix it — An educational reminder that sometimes size does matter.  And now it's documented to further success.
Bonus:  Another Beef Roast recipe, a Chipotle Baracoa Beef copycat I developed is linked.  It's pretty darn good, if I do say so myself, and others think so too.  Always good, bad and funny.