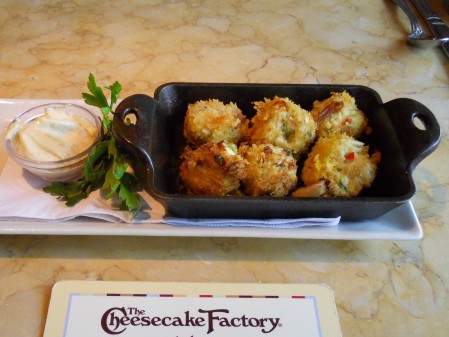 Continuing with our sampling of The Cheesecake Factory's Small Plates and Snacks Menu, this visit we tried a few of their newest additions — Pictured are the Crispy Crab Bites ($6.95), Mini Corn Dogs (4.95) and Fried Zucchini ($3.95).
We loved the Crispy Crab Bites — The Creole Mustard Sauce that's served with them is a perfect compliment.  The Mini Corn Dogs are made with Nathan's Hot Dogs which is good, but we thought the batter was bland.  We  have no complaints about the Fried Zucchini and especially like the Ranch Dressing that's served with it.  It's another tasty combination.
We've had a lot of great meals at The Cheesecake Factory — You can see them all here.