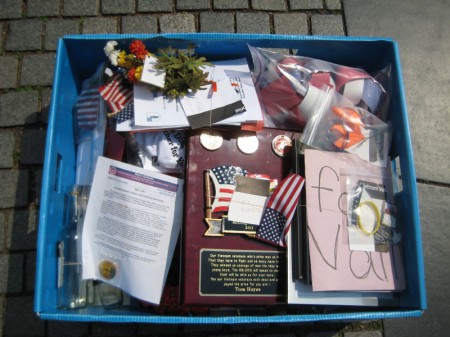 Our United States Veterans allow the rest of us to BBQ today — Never take that for granted.  Our sometimes Washington, DC Correspondent (dubbed by me), Steven Woo sent a report of a well spent day.  An excerpt is posted below with related photographs.  Thank you.
Attached are pix from the Wall.  The National Park Service routinely collects the artifacts but lets them accumulate on special occasions such as Memorial Day.  IMHO, the written words are the most-moving of the objects.  President Obama spoke at the Wall this afternoon; all the artifacts were cleared in advance of his visit.  Also included are pix of a Crab Feast at a friend's house.  We spent the Sunday afternoon and evening hanging out, and didn't make it to the National Memorial Day Concert — good thing because severe weather canceled the show half-way through.
Happy Memorial Day to all and God Bless America.