I contemplated posting this report, since our handy dandy Guest Blogger, Bonnie focuses more on getting lost than the food, but I don't blame her — I'm sure I would've been frustrated too, thus do post her account below, mostly so not to stymie the amazing food and professional photographs provided by The Capital Grille in Beverly Hills.  Although pissed about the drive, she loved the food.  I've yet to dine at The Capital Grille and will most likely opt to do so at the South Coast Plaza location.  A photo of the Bar is posted first, because Bonnie needs a drink after telling her story…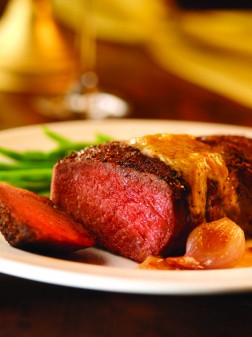 The Capital Grille in Beverly Hills — Having had such a wonderful meal at the Capital Grille in Costa Mesa only a week before, I decided to start my night in Beverly Hills at their brand new, sister restaurant in the Beverly Center. 

It wasn't their fault that I got totally and completely lost. I should have known better than to make the drive from Newport Beach to Beverly Hills at 5:00 p.m. on a Thursday night without anydirections on me at all. But heck, I've been to the Beverly Center before. Indeed, I was born and raised in Los Angeles, so I know it quite well. And geewhiz — I have GPS — so why would I need directions?

Because — truth be told, I haven't lived in LA for thirty years, so I completely forgot how to get to the Beverly Center. And the directions my girlfriend's daughter gave me over the cell phone were quite detailed, but…

 WRONG!

Plus, nobody at the restaurant could figure out where I was when I told them what cross streets I was passing.

Grrrrrrrrrrrrrrrrrrr.

Adding final insult to injury, my GPS would not "accept" an address on Beverly Boulevard beginning with the number "8".

!!!@#$%!!!

Once I finally arrived though, we were treated to the same fine service and attention from the Capital Grille's staff, along with some delicious food and drink. Our server, Charles, graciously apologized (even though he didn't have to!) for my hour and a half of misfortune, and then served us a beautiful Steak with Béarnaise Sauce and Crab, Macaroni and Cheese with Lobster, and Sautéed Spinach on the side.

We didn't have time to take a tour of the restaurant that was offered to us by Managing Partner Gina Doyle, but we sure appreciated the fact that they treated us to another Exceptionally Distinctive Guest Experience.

Thank you — Charles and Gina — and next time I come to LA, I promise to bring directions.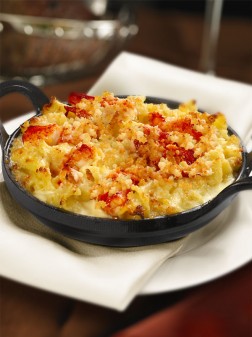 Thanks Bonnie — I'm glad I wasn't with you, though I am ready for their SCP location.