Burrissimo Fast Fresh Italian: Create Your Own Meal (Or Two).
Burrissimo Fresh Italian — One try got me hooked on the Pasta Bowl with Salmon.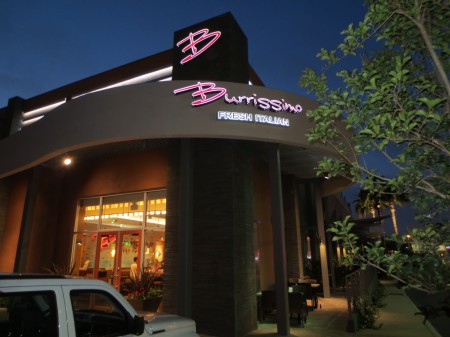 It's in Costa Mesa and I've already been back for seconds of the same.
Burrissimo makes me think of an Italian Chipotle.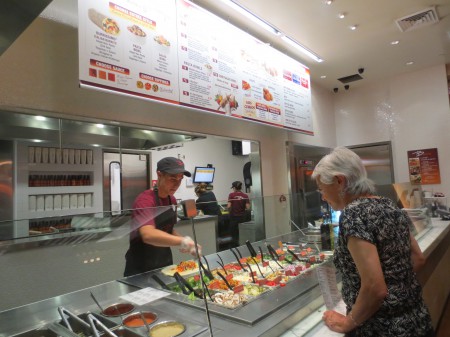 It's similar in that YOU choose the Entree… a Burrissimo, Pasta Bowl or Chopped Salad Bowl.
And then choose a Grill Item… Chicken, Crispy Chicken, Meatballs, Steak or Salmon.
Choose a Sauce — Pomodoro, Diavolo and/or Alfredo.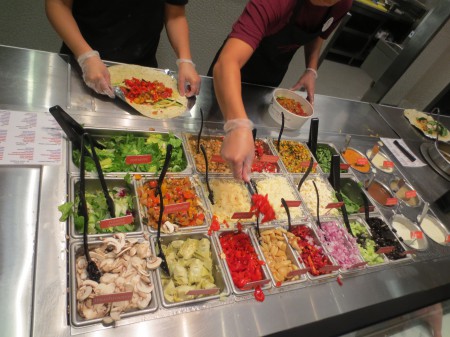 The final step is to Top-It-Off with a combination of whatever YOU like best.
I'm now hooked on the Peppadew Peppers — They're perfectly sweet and hot.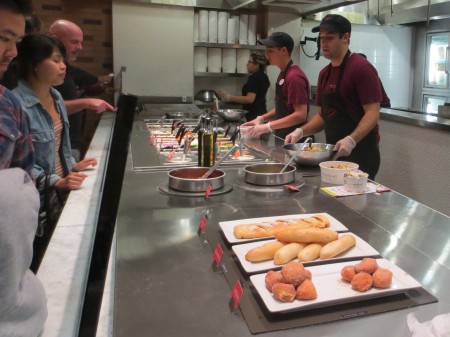 It has a good size interior and an outdoor side patio and/or it's well set up to-go.
The Salmon Pasta Bowl decorated with my faves is too good — I may never try anything else.
What is a Burrissimo?
It's Angel Hair Pasta, a grill item, fresh Vegetables & Sauce wrapped in Italian Flatbread.
It's different and actually quite tasty — Pictured is the Meatballs & More Burrissimo.
My first Pasta Bowl (above) doctored to my satisfaction, awaiting the Garlic & Lemon Salmon.  I ended up liking this place a lot more than I thought, and one Pasta Bowl can be two meals.
EXTRA EXTRA:  Friday, June 7th is National Donut Day. To celebrate, Burrissimo in Costa Mesa is offering a Free Zeppole Italian Donut with any purchase that day.