Café Du Monde (Original French Market Coffee Stand) Beignets At Home.
I had Beignets on the patio at Café Du Monde in New Orleans about seven years ago.  Café Du Monde is the Original French Market Coffee Stand that serves Café Au Lait and Hot Beignets aka French Doughnuts 24 Hours a day, year round.  Love 'em when they're HOT!
Café Du Monde has been a familiar New Orleans landmark in the French Market since 1862.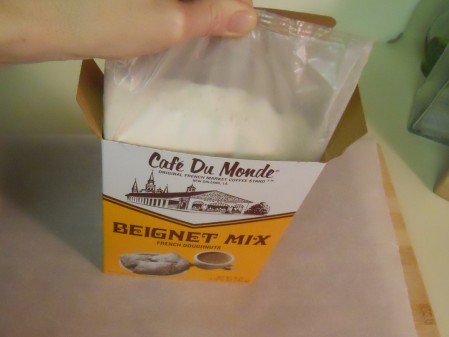 You can get Café Du Monde Beignet Mix at Cost Plus World Market just in time for Mardi Gras (on March 8th) or any time of the year — I celebrate with special indulgences on a whim.
Although I don't love frying things, every now and then it's necessary to make certain tasty treats, such as Onion Rings, Tortilla Chips, Fried Chicken and these French Doughnuts.  They're easy to make — Just Mix, Roll, Fry and Enjoy, as the package states.
Roll and cut into 2 1/4 inch squares as the original or into any shape you want.
A few Beignets were oddly shaped, but tasted the same.
Fry until golden brown, then sprinkle generously with Powdered Sugar.  YUM!
And since it's easy to make and tastes so good, I prepared fresh Whipped Cream too.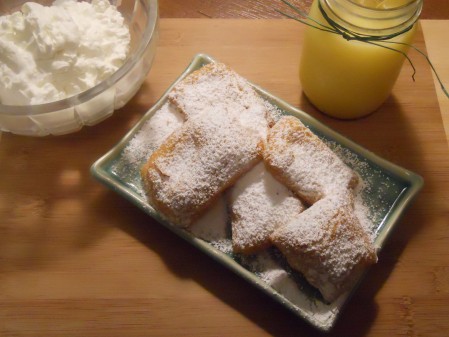 All was served as an after dinner dessert with previously prepared Lemon Curd, Coffee & Milk.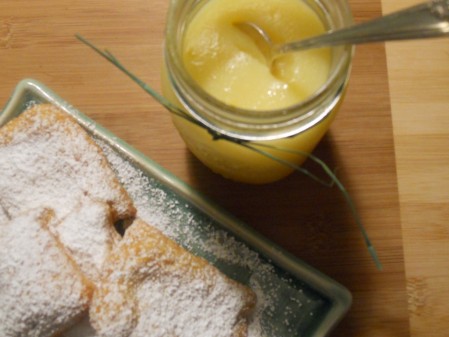 It's as simple as Un, Deux, Trois, Quatre — Check the back of the box.  Au revoir.