Continuing our tour of Casino Buffets, Nibbles of Tidbits recently enjoyed the Lunch Buffet at Choices inside Pala Casino Spa Resort.  We're not major Buffet fans, but find many of the Indian Reservation Casino Buffets quite impressive and an amazing deal, especially if you join a Player's Club.  You'll need to check the details for each Casino, but a free or discounted Lunch or Dinner Buffet is often a perk of joining a Player's Club.  At Pala Casino, it's called a Privileges Card — It affords a 20 – 100% discount relative to one's gambling practices.
Unfortunately our photos don't capture the full grandeur of Choices Buffet, thus it's recommended that you try it yourself.  They offer almost everything you can think of… Seafood, Mexican food, Chinese food, Japanese food, an extensive Salad Bar, fresh Fruit, American favorites, Italian food, every Dessert you can imagine, plus more.  And it's the first Buffet we've seen serve Leg of Lamb during lunch — All you can eat Lamb, shucked Oysters and peel and eat 'em Shrimp is a deal in itself, without mentioning the Ribs, Ham, Turkey, Chicken, Salmon Fajitas, Hot Dogs, Hamburgers, etc.
Pala Casino takes a lot of pride in Choices Buffet and wants its customers to truly enjoy their experience.  It's well kept, clean, fully stocked and ready to be served.  We found the service and attention to detail remarkable.  They're excited to present their remodeled Buffet (reopened Memorial Day 2009) and interested in customer feedback.  They want to make Choices the best Buffet in town.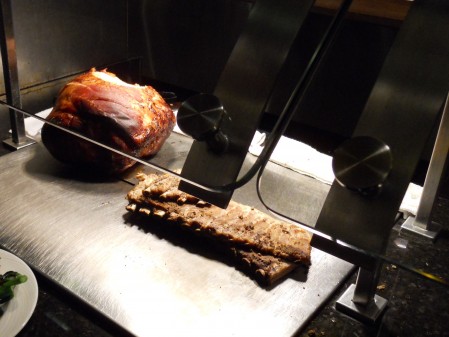 We've learned that Indian Reservation Casino Buffets are relatively progressive (I wish I'd win it) and sophisticated.  Gone are the days of cheap Buffet food — There's a lot of competition.  Casino Buffets are quite the production, prepared and maintained by a team of attentive chefs and staff.  Food is often presented as art, as shown by the flower carved out of a Watermelon and a dove carved from I'm not sure what.
As of this date, we think Choices may have the best Desserts seen thus far.  We haven't found any Buffets lacking Desserts, but we're extra impressed with the Dessert case pictured directly below.  In addition to offering almost every imaginable Dessert outside the case, those presented below are extra special.  To me, it was like visiting an expensive bakery after the Buffet, whereas you get to pick and eat whatever you want for free.  Elsewhere, each gourmet item may cost $5.  You always want more than you can afford — Here you can just go for it.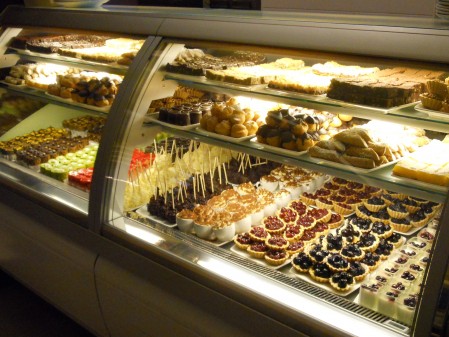 It was hard to narrow down our selection of Choice's Desserts, but we ultimately decided on the Mango Mousse Tower, Tiramisu Mug and Raspberry Mousse Tower (clockwise below).  We're not sure of their actual names and describe them by taste and design.  All looked like a work of art.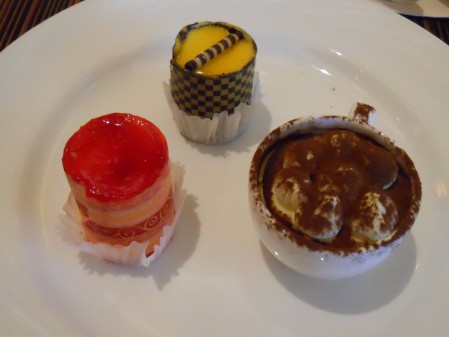 Pala Casino is situated in a valley among beautiful hills — Below is just one view from the deck near the Food Court, close to more dining offered at Pala Casino.  After this visit, we deem Choices to be one of our favorite Lunch Buffets.
Although not captured in this post, Choices' design is worth mentioning.  Our Interior Designer (Guest Blogger Bonnie) would have approved.  We particularly liked the giant monitors displayed throughout.  Each had incredible rotating food images to help get you in the mood.  Make sure you bring your appetite to this Buffet.
Note:  We'll be visiting Casino Pauma's Buffet in March — Check back for a report on it.