What are the best foods to eat at Disneyland, I asked my semi-smart phone.  We were going to Disneyland and Disney California Adventure and wanted something different than an average Burger and Fries.  I hadn't been to either park in 10 years.  After reviewing the search results, I chose two food dishes that were included on several lists — One at Disneyland and the other at Disney California Adventure, two places I've never known and probably wouldn't have found.  Each sounded appealing.  We started with the Carthay Signature Fried Biscuits with Apricot Honey Butter at Carthay Circle Restaurant at Disney California Adventure.
Carthay Circle Restaurant is fancier than expected, but we sought to have the best food at Disneyland.  We went there to try the Carthay Signature Fried Biscuits that are described as amazing and to-die-for.  Stuffed with White Cheddar, Bacon and Jalapenos they sound good.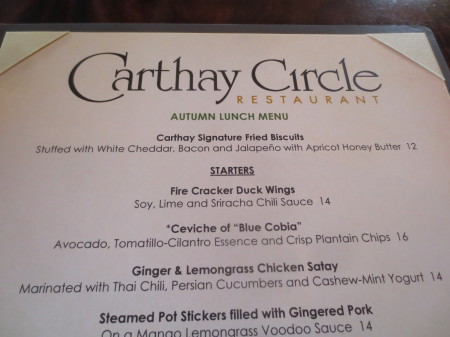 They don't look like much on the outside, then surprise with a gooey middle.  With the Apricot Honey Butter, it's interesting and different — I like its concentrated flavor and it's not bad on the Biscuits, but we really didn't fall in love with them.  They're good, not great and expensive for its small size and amount.  Several Starters looked better to us and more filling.
My husband set out to photo bomb Goofy, but wasn't obvious enough — At Disneyland.
Across the square from Disney California Adventure, we sought to have the Lobster Roll at the Harbour Galley Restaurant in Critter Country at Disneyland.  It too appears to be a Disneyland favorite.  It's less fancy than Carthay Circle with only a few takeout windows.
I wasn't able to take a good photo of the Lobster Roll, but the Clam Chowder in a Bread Bowl looked, tasted and photographed well.  It too is well-liked by bloggers and papers.
The Lobster Roll was great, with a good amount of Lobster and nice lemony flavor.
We'd have the Lobster Roll again for $14.99, but not the Carthay Signature Fried Biscuits for $12.00.  Next visit we'll try other Disneyland favorites discovered on my phone.  Thank you!