Extra Extra: Recycled Edible Arrangement Stems Grow New Fruit.
Have you seen, tried or received an Edible Arrangement?  They're sure nice, but not cheap.
If you're delivered one, save its bare bones — My Mom did and prepared them to live again.  The frame of an Edible Arrangement is basically a pot with a foam insert and plastic skewers.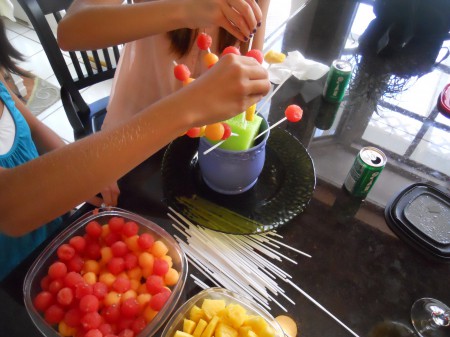 Just cut and ADD FRUIT for an anytime array.
See here for ideas, buy one for its eventual bones or assemble a kit with craft store materials.

Chef Bailee and Lexi of Kids in the Kitchen created a fruit bouquet for a family birthday party, but didn't want to be seen on camera this day due to teenage makeup concerns — Well, okaaaay then.  They enjoyed crafting it, an outcome sought most.  And it's tasty too!
  Why not make it a family project?  You can come out now Lexi. 🙂