Hooray For Cheese And Sauce: How To Hide Enchilada Imperfections.
Looks good, right?  They do now.  And they tasted good too.  Often times there's a transitional period when things look a mess, before coming together.  This occurrence is true for many types of creations.  In this instance, it was the Cheese and Sauce that straightened out the look of these imperfect Chicken Enchiladas.  All happened brilliantly in the end.
How to make them — Cut or shred breast meat from a Rotisserie Chicken.
Add Green Onions.
Add Cheese — For ease, I cheated by using pre-grated Jack and Cheddar.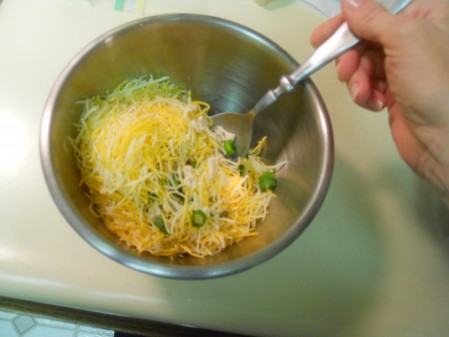 Mix ingredients together and set aside until Tortillas are ready to be filled.
Dip Tortillas in warm Sauce before filling them.  It makes them a little more pliable to roll.  The Sauce used for these Chicken Enchiladas was from El Matador Restaurant.  Got some to go — It's almost the same price as a canned Sauce, but better tasting.  We recommend buying Enchilada Sauce from a good Mexican restaurant in lieu of canned, if you don't make your own.
My Mom says I need to fry the Tortillas in Oil for a minute or so to make them even more malleable, but I always try to avoid that step and too often get the same bad result… cracking Tortillas.  She's right, again.  And since the Tortillas were homemade and thicker than most, the breakage was worse, as shown below.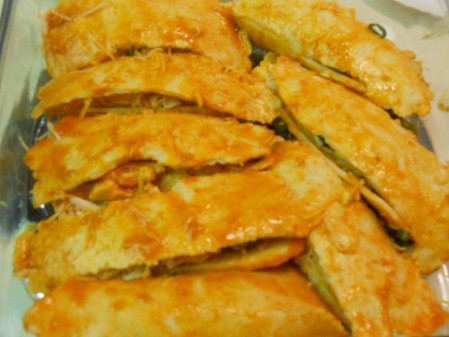 Cheese and Sauce to the rescue — Hide the Enchilada imperfections.
Now you can't tell the Tortillas cracked and went off the deep end.
Aside from how they appear underneath, everyone liked how they looked coming to the table.  Their flavor and facade was dialed in with Cheese and Sauce.  Whew, they saved this meal.