In That Same American Backyard On July 4th.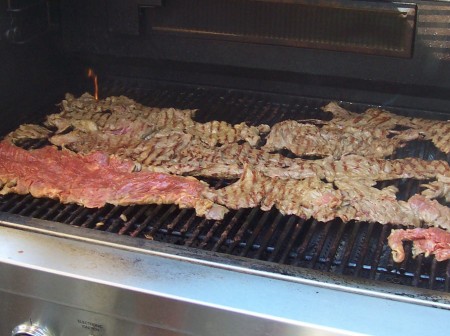 Last year the Carne Asada was from Gems Market in Yorba Linda and this year it's from Costco.  Both were good — We've got no complaints about anything.  It was a beautiful day in America.
We had Hot Dogs, made Tacos, ate Salads, Fresh Cherries, Edamame, Chips, Salsa, Watermelon, Homegrown Tomatoes, Basil and more.
And check out these shoes (directly above right), they've got bottle openers built in to the bottom of them.  Too funny — I had not seen that before.  They came in handy on this thirsty day.
Related Links:
http://www.reef-sandals-online.com/reef-fanning.htm
http://www.ineedtext.com/FoodBlog/2008/07/05/4th-of-july-in-an-american-backyard/
http://www.ineedtext.com/FoodBlog/2009/07/04/fourth-of-july-cake-on-its-way-to-a-party/