It'll Be Called Cafe Nordstrom Or Nordstrom Cafe Bistro.
Have you noticed that some restaurants inside Nordstrom are called Cafe Nordstrom and others are named Nordstrom Cafe Bistro?  And on Yelp it's referred to as Nordstrom Marketplace Cafe.  Not all have the same name or exact menu either — Most items are the same, but some are different.  Whichever way, it's one of our favorite places for lunch.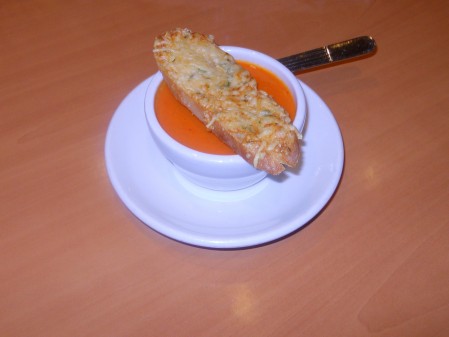 This lunch is from Cafe Nordstrom at the Brea Mall — It's the Lime & Cilantro Steak Salad and Roma Tomato Basil Soup.  We've almost worked our way through the menu, thus only post newly tried dishes.  The Chili-rubbed Flat Iron Steak served on the Lime & Cilantro Steak Salad is cold, but we prefer it heated/hot on top.  It has a big flavor and tastes better warm.  The Roma Tomato Basil Soup is very good too.  More Nordstrom meals are linked above and here.