Maggiano's Little Italy — Make Reservations If You Don't Want To Wait.
One of our longstanding favorite restaurants in Costa Mesa is Maggiano's Little Italy.  It's even better now that it has taken over the former Corner Bakery portion of the restaurant and built a much needed Bar and wait area.  It was way too small before and Maggiano's gets busy.  Without reservations last Friday, we almost waited an hour and a half.  You can make reservations on their website or directly through Open Table — It's highly recommended.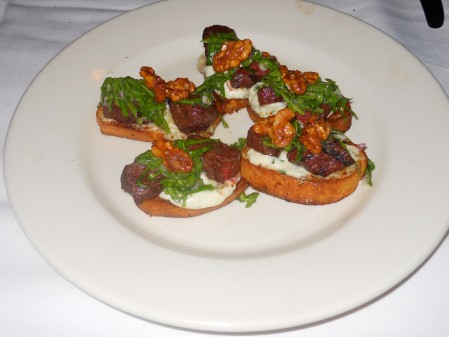 During this visit, dare I say that I had the best tasting appetizer in my life?!  It's quite a statement, but Maggiano's Grilled Steak Bruschetta is amazing.  It's made with a Gorgonzola Fondue that's topped with slices of Steak, Red Onions, Spiced Walnuts and Fresh Spinach.  The combination is superb and the Steak is tender.  This appetizer in on their "Eat A Dish for Make-A-Wish" special menu, whereas when you order from it Maggiano's makes a donation to the Make-A-Wish Foundation in your honor.  It's truly a win-win situation.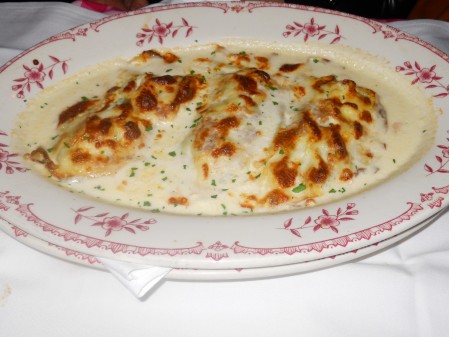 We also enjoyed the Chicken & Spinach Manicotti (above) and the Italian Boneless Short Ribs (below) that's served with Roasted Butternut Squash, Chard, Sun Dried Tomatoes, Garlic Herb Cheese & Couscous.  Both were terrific at the restaurant and for leftovers.  The portion sizes are always generous, which is another thing we love about Maggiano's.
And had to have the Dessert Sampler too — All that you see is baked in house.  What a treat!
Note: Click HERE to view more dishes enjoyed at Maggiano's Little Italy.