PALA's Choices Now In First Place (Thus Far) In Our Casino Buffet Tour.
Seemingly endless choices at Choices, The Buffet at PALA Casino Spa Resort.
Choices is decidedly our first choice of Casino Buffets, inched up after a second visit.
Too many items to accurately list, track and photograph, and too busy having fun making choices, but generally describe the captured — Our tastes included, from top down, Pork Tenderloin, Carved Turkey Breast, Lamb and Sausage, and well cooked Fish in a Sweet Sauce.
The Largest Shrimp Cocktail in the World — You're allowed to eat all of it, if you can.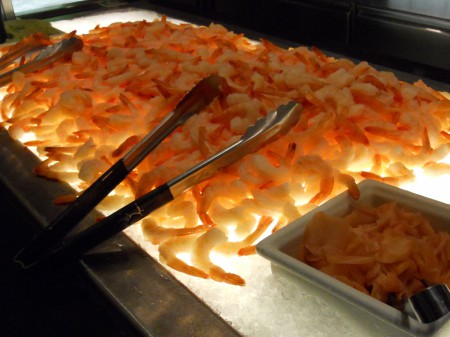 BBQ'd Hamburgers, Hot Dogs, Chicken and Carne Asada to order, if you so choose.
Travel around the world while making choices at Choices — From Asia to Italy and beyond.
Lots of Pizza choices — Pepperoni and Jalapeno looked best to me.
Shrimp Fajitas in Mexico.
Or a good old-fashioned Sandwich exactly how you like it.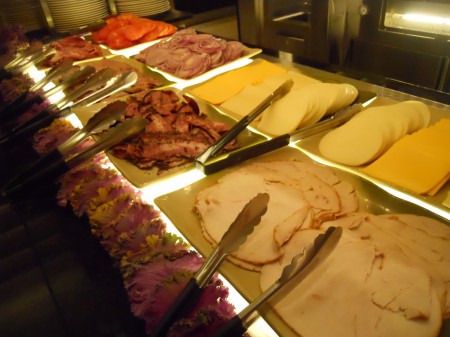 The decor is pleasant and the seating is comfortable.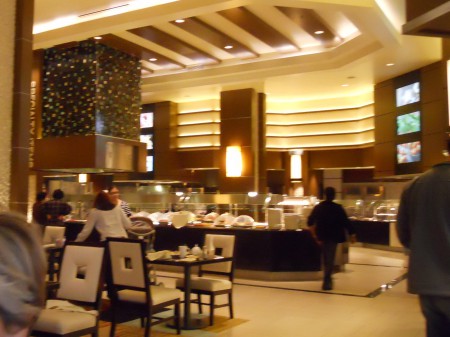 One of the Pastry Chefs — He was nice and willing to assist, that's all I know.
Spectacular Dessert Cases — It feels like you're in a Pastry Shop to eat all you want/can.
One of each, to-go please, yeah I wish — Can't eat all in one sitting and wish I had 'em now.
Pick any one, two, three, four, five, etc.
Have something custom made – A Banana Split, Crepes, Bananas Foster, Rootbeer Float, etc.
And the best part of the story is… We celebrated my Grandma's 90th Birthday.
Happy 90th Birthday Grandma — We love you!  We won big this day just being together, and didn't lose too much in the video poker machines.  It was a beautiful day out near Temecula.
On to the warning… Don't order a Glass of Pinot Grigio — It's $12.  That was a shocker when the Glass of Chardonnay was only $4.  We tasted both comparatively and will unanimously opt for Chardonnay next time.  The Pinot Grigio wasn't $8 better tasting, especially at a Casino.