Quick Tender Oven Baked Baby Back Ribs & A Preparation Experiment.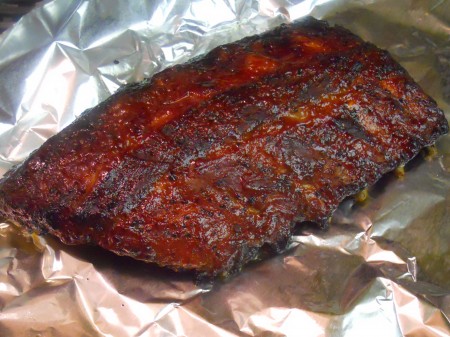 Have you tried Houston's BBQ Pork Ribs aka Knife & Fork Ribs?  They're some of the best I've had and a model for how I want my Baby Back Ribs to be.  And I'm content knowing I've previously accomplished it, BUT sometimes there's not the time, nor grill, then what?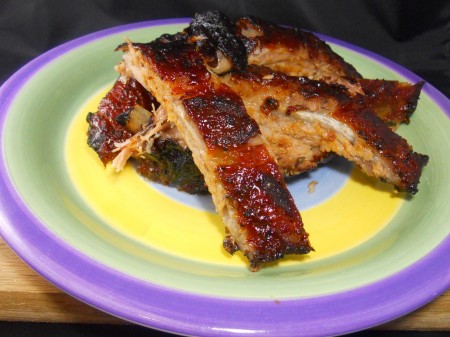 The above Baby Back Ribs were baked in the oven at 400° for 1 hour wrapped in foil (fat/meat side down), then unwrapped, turned over and lathered with BBQ Sauce and cooked 20 – 30 minutes longer unwrapped.  Below is how they looked, prior to turning to sauce.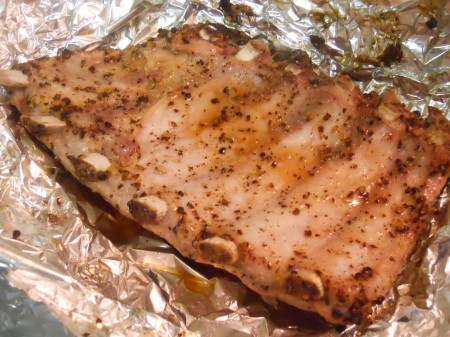 And separately below we experimented with a Dry Rub on a different slab of Baby Back Ribs.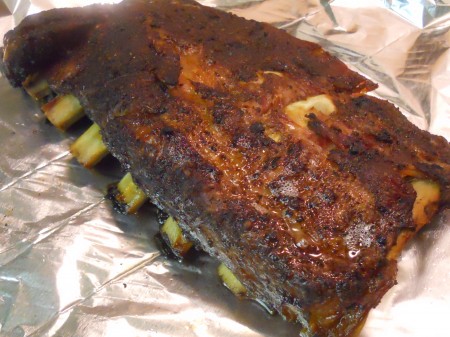 Last year at the Foodbuzz Blogger Festival in San Francisco, I was given a Brown Sugar Pork Rub developed by Tyler Florence.  I finally tried it on this second slab of Ribs.  And to compound the test, we cooked them as described above, but at 225° for 3 hours.
The consensus, the slower cooked Dry Rub Baby Back Ribs fell apart while cutting, not attractive for serving, and unnecessary since the top Ribs cooked in half the time and were perfectly tender.  That recipe is from Delicious House.  It's a keeper happily collected, posted and linked here for future use.
And I'm sorry to report that I wasn't excited by Tyler's Brown Sugar Pork Rub, and it sounded so good too, but Salt and Pepper worked better on the first slab of Baby Backs, a winner.