What Grows The Fastest? Radishes, Beans & Peas, Oh My.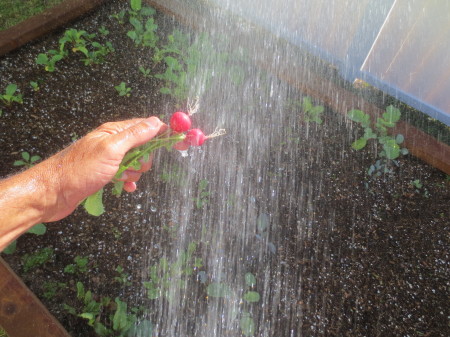 Though we planted late this year, we're enjoying the Radishes.  They're pushing through the soil daily alerting they are ready to pick — It took about 4 weeks from seeds to grow and eat them.
And we learned that Beans and Peas practically grow overnight, but as of today they are far from being ready to eat, especially since our large turtle tortoise (Cesar) ate them when we weren't looking.  We wrongly planted them in the lower planter, which we're in the process of amending.
As for the other seeds we planted, much is growing or trying to grow.  Our Purple Cabbage has sprouted large leaves, but the row of Purple Cabbage growing at the Orange County Fair includes numerous large heads of Cabbage.  Our garden is coming along slowly, but we're optimistic.
I wonder what we get to eat (before Cesar) next — To be determined and announced.