Whoa Baby, It's A Dutch Baby (German Pancake).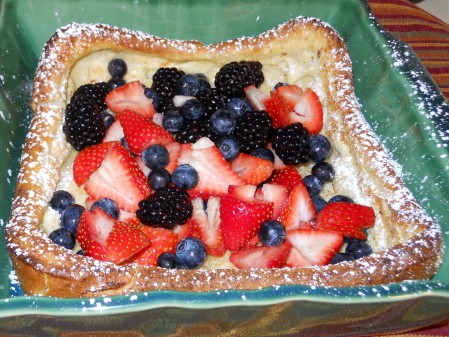 Have you ever made a Dutch Baby?  It's a German Pancake that's easy to make and impressive to serve.  It'll definitely be on the menu at my next brunch party.  I located several recipes for Dutch Baby Pancakes, but ultimately prepared the one in this video — Then served it with Powdered Sugar, Blackberries, Blueberries and Strawberries.
Above photos follow along with the video / recipe used to prepare this Dutch Baby.  Next time I might squeeze in a little Lemon or a teaspoon of Cinnamon and Sugar to add more flavor to the batter (Eggs, Flour, Milk, Salt).  Without much effort, Dutch Babies make special desserts and mid-morning treats that consistently wow guests.