Winning Salad Ingredients Inspired By Blue Apron Meals.
It was Red Quinoa, introduced by Blue Apron, that inspired me to create the pictured Red Quinoa and Garbanzo Bean/Chickpea Salad, with Shallots, Parsley, Mint, Arugula, Toasted Slivered Almonds, Red Wine Vinegar, Dijon Mustard, Olive Oil and Salt & Pepper.  It was for the OC Fair's Culinary Arts Competition this year and I won a 5th Place Ribbon for it.  Measurements aren't listed, because they didn't need to be submitted — I just fine tuned the combination until it tasted great and now it's a Salad I'll forever make in varying combinations, with Quinoa, Beans and Nuts.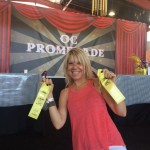 I won a second 5th Place Ribbon for a different Salad using Orzo Pasta, Broccoli and Pine Nuts.