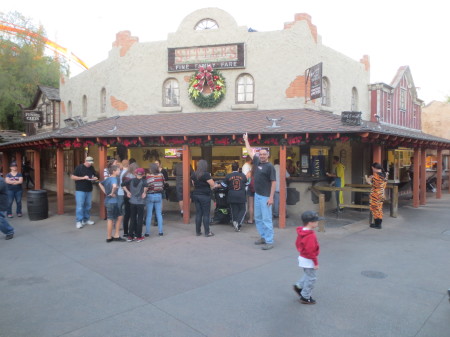 We just purchased Knott's Berry Farm 2016 Season Passes and Knott's All Season Dining Pass. For around $185 each, we get (1) Lunch and (1) Dinner every day in 2016 at Knott's Berry Farm. There are no blackout dates.  What a deal!  We technically wouldn't need to spend anything more on food or entertainment for the entire year.  We can go to Knott's every single day and eat twice. There's a (4) hour interval between meals.  Locals should seriously consider this as a good meal and entertainment plan, especially if poor and often bored.  We're within biking distance and couldn't pass it up.  We plan to try and report on the food at all participating restaurants.  There are seven.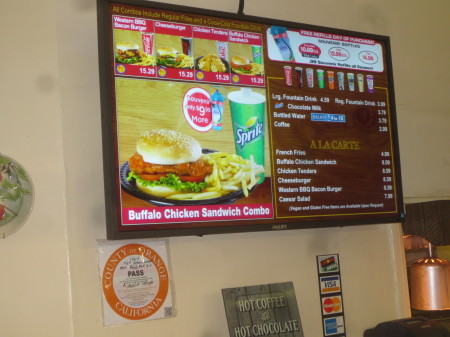 With a Season Pass Dining Plan one can enjoy Lunch and/or Dinner at each of the following restaurants… Sutter's Grill, Wilderness Broiler, formerly known as Bigfoot Broiler, Hollywood Hits, Coaster's Diner, Boardwalk Barbecue, Cantina and Grizzly Creek Lodge — They are listed in the same order they're pictured herein.  We barely photographed all of them before the sun went down.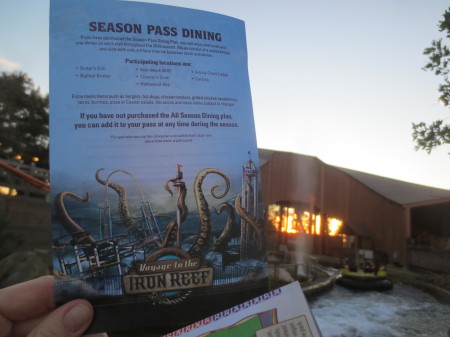 Sutter's Grill is pictured at top, as Matt points out, and its Season Pass Dining Menu is below it.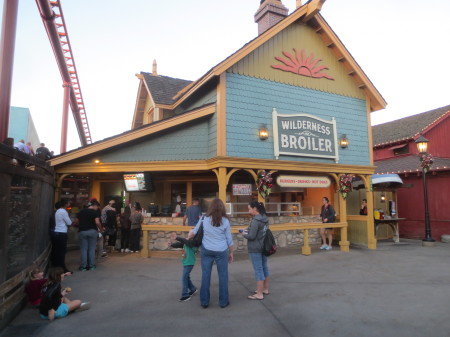 If you circle Knott's Berry Farm clockwise from the front gate, you'll find each of these participating restaurants in the same order they are presented here.  The Wilderness Broiler, also in Ghost Town is pictured next.  They're grilling up Chicken Sandwiches, Cheeseburgers and Hot Dogs.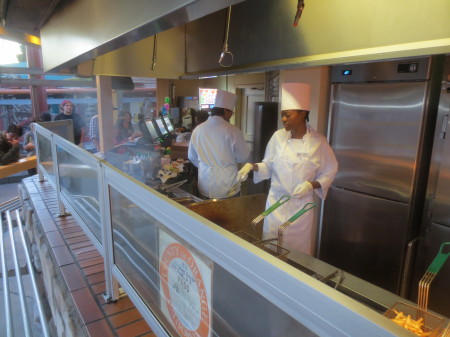 It's hard to see the various menus here (better if enlarged), but they're all somewhat similar.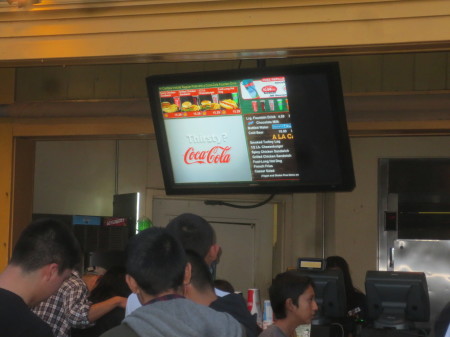 Moving into Boardwalk, Hollywood Hits restaurant offers Pizza.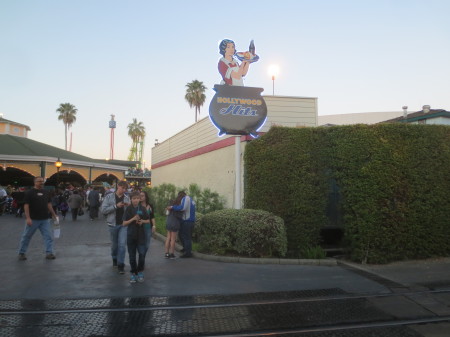 If wanting Pizza instead of a Burger or Hot Dog with Season Pass Dining, go to Hollywood Hits.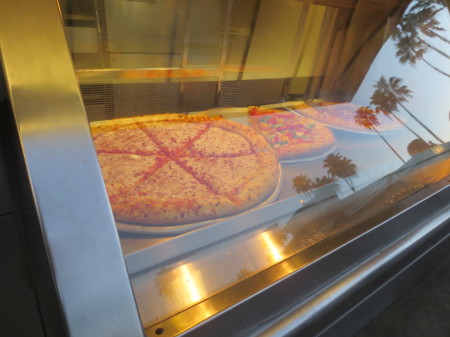 Each participating restaurant menu offers four Combos and a Caesar Salad to choose from.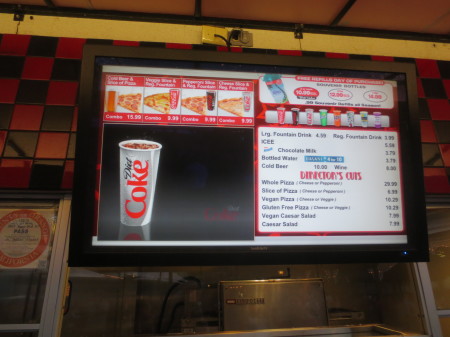 Coaster's Diner (below), also in Boardwalk is a cute place to eat.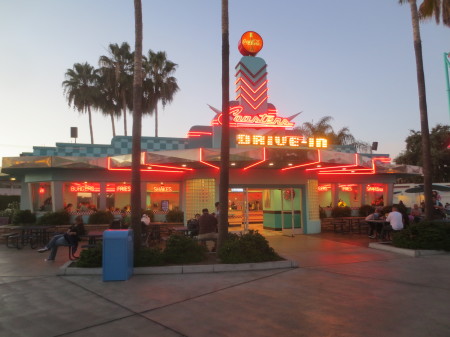 Chicken Tenders and a Southwest Cheeseburger are offered here, differing from the other menus.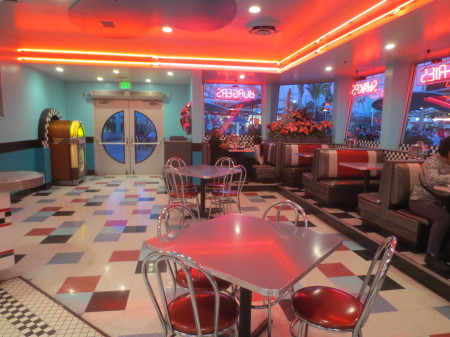 Boardwalk Barbecue (below), another participating restaurant is also in Boardwalk.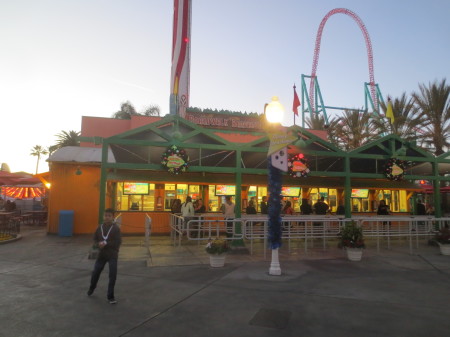 In addition to a Grilled Foot-Long Hot Dog, Cheeseburger and Grilled Chicken Sandwich, Boardwalk Barbecue offers a Flat Bread Pizza.  And then there's the Cantina in Fiesta Village, the only restaurant where you can get a Burrito, Taco or Tostada Salad on the Season Pass Dining Plan.
The Cantina is pictured above and below.  Every restaurant offers a Caesar Salad too.
And finally there's Grizzly Creek Lodge, the largest restaurant of all in Camp Snoopy (below).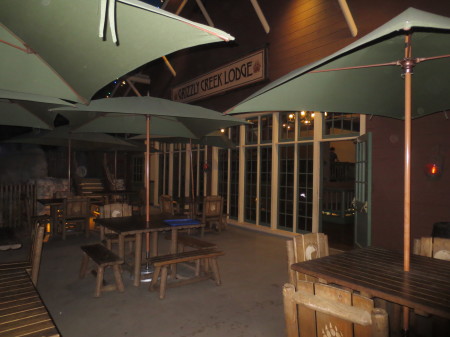 It offers dining downstairs and upstairs, inside and out.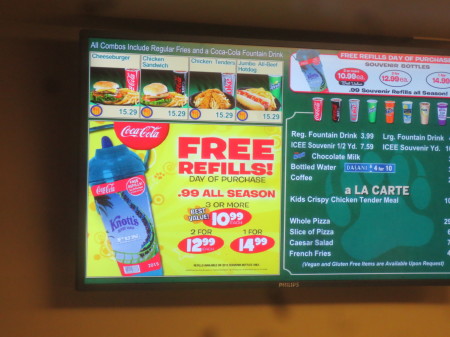 Once you have circled the park stopping at each of the participating restaurants on Knott's Season Pass Dining Plan, there are no new menu offerings at Grizzly Creek Lodge, except for the large condiment bar pointed out by Matt below.  Though the menu items are somewhat repetitive, the deal is good, since each combo costs around $15.  Drinks are not included with Season Pass Dining.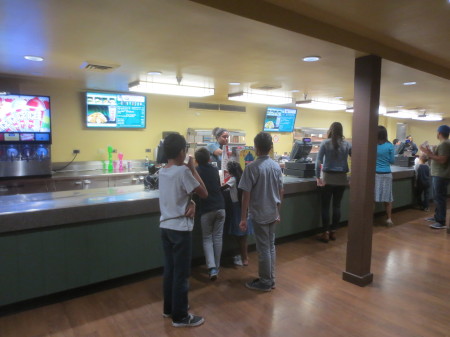 A 2016 All Season Bottle can be purchased for about $25 for Unlimited Free Refills on drinks.  We didn't purchase that.  I believe we're allowed to bring a bottle of water into Knott's (I need to confirm that), which will suffice since we rarely drink sodas.  We'd rather purchase a liquor plan.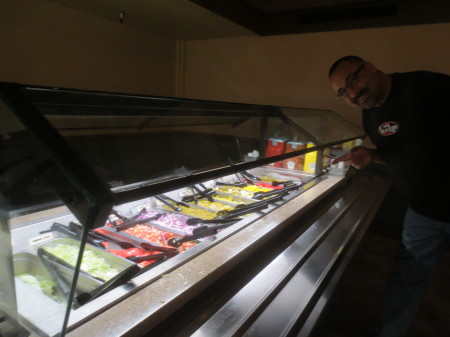 We start our Season Pass Dining at Knott's Berry Farm in 2016.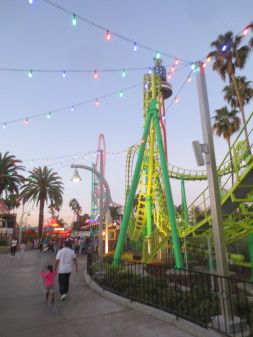 Check back to see what tastes best there.