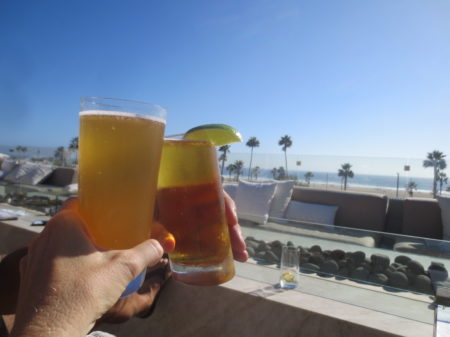 We toast to several new restaurants with a view in Huntington Beach.  Here we're at the Treehouse Lounge at Tanner's, which is part of the Pasea Hotel & Spa.  You don't have to stay at the hotel to enjoy its fabulous restaurant, Tanner's with floor-to-ceiling upstairs and downstairs views of the Pacific Ocean across Pacific Coast Highway.  We enjoyed beers and a couple appetizers there — Grilled Asparagus and Chips, Salsa and Guacamole.  All was fantastically flavorful.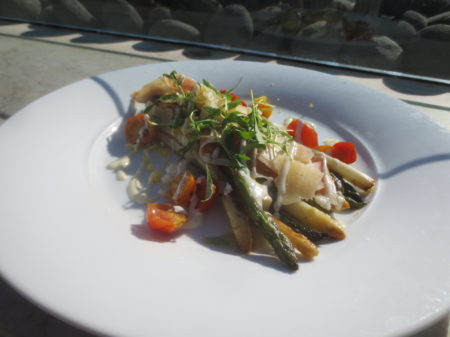 Though the view and food are terrific at the Treehouse Lounge at Tanner's, more shade is needed upstairs to enjoy all during the day — It's stylish and comfortable, but there is not enough cover.
We plan to try more from Tanner's menu, after the sun goes down and the fire pits are lit.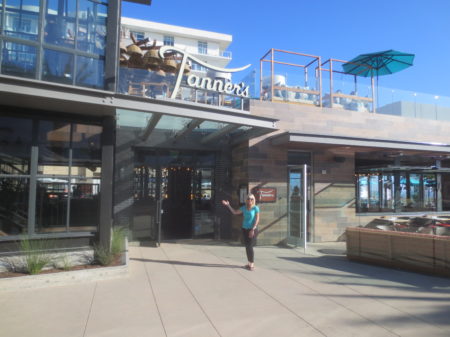 Next door to Tanner's is The Bungalow, another amazing new restaurant with a view.  Below we toast with specialty drinks at The Bungalow, where a little more shade can be found during the day.  The food is tasty at The Bungalow too, though prepared by the restaurant downstairs and delivered via dumbwaiter upstairs.  The kitchen below it created a special menu just for The Bungalow.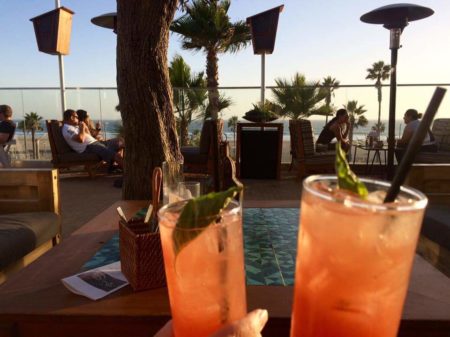 At The Bungalow, it feels like you are enjoying drinks and appetizers at a friend's house and Tanner's feels like you're at a nice beach resort.  Both are a wonderful addition to Huntington Beach.