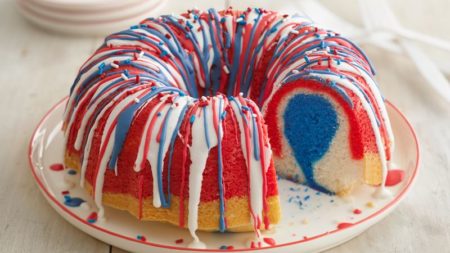 IHOP® RESTAURANTS THANK VETERANS AND ACTIVE DUTY MILITARY
ON VETERANS DAY WITH FREE RED, WHITE & BLUE PANCAKES
Servicemen and Women are Invited to Savor Time with Family and Friends Over a Made-to-Order Breakfast at IHOP on November 11, 2016 — Including a Free Pancake Offer From 7 AM – 7 PM
WHAT:
On Friday, November 11th, Veterans and Active Duty Military can enjoy three of IHOP restaurant's hot-off-the-griddle, world famous Buttermilk Pancakes with glazed strawberries, blueberry compote and whipped topping for free at participating U.S. locations, between 7 a.m. and 7 p.m., as part of the Red, White & Blue Pancake promotion for retired and active duty military personnel.
WHERE:
Participating IHOP Restaurants in the United States.
WHY:
For close to six decades, IHOP has been the leader in bringing guests a freshly made breakfast served any time of day, every day, as well as unique, made-to-order limited time menu items. IHOP is proud to honor veterans and active duty military this holiday.
WHEN:
FRIDAY, November 11, 2016, 7:00 AM – 7:00 PM
Photo Credit:  The pictured Cake is unrelated to the Pancakes being served at IHOP — The Cake recipe is linked here if you want to make it for someone special this Veterans' Day.
And IHOP is just one of many appreciative businesses offering deals to deserving American Veterans on Veterans' Day.  That's nice of IHOP and others.  Additional offerings to Veterans are linked here. I'm grateful for the service of each and every serviceman and woman and thank all so very much.