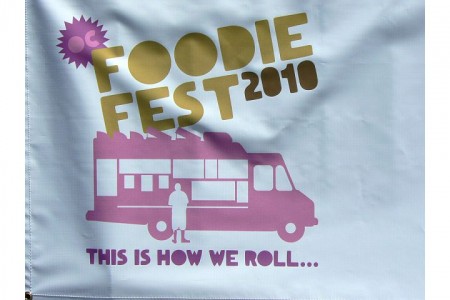 The 2010 inaugural OC Foodie Fest officially happened at the Honda Center last Saturday and although I personally was unable to attend, Nibbles of Tidbits sent its favorite Guest Blogger, Bonnie and her trusty photographer, Andrea to enjoy and report about the event.  Somebody had to do it and wish it was me after hearing about it.  Bonnie writes the rest…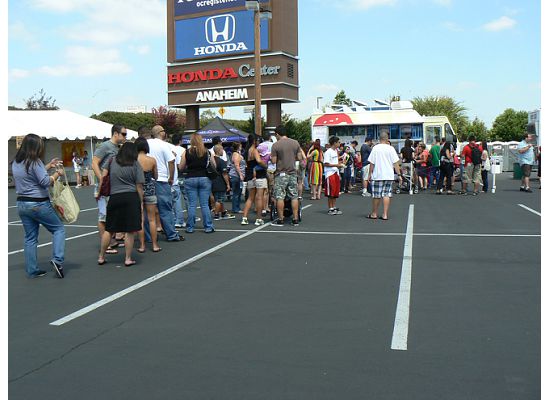 The food, the sun and the fun were all perfectly aligned at the Honda Center Saturday afternoon for the inaugural OC Foodie Fest, with over 8,500 people attending the sold out event and 49 gourmet food trucks. No doubt this will be the first of many more Orange County Foodie Fests to come.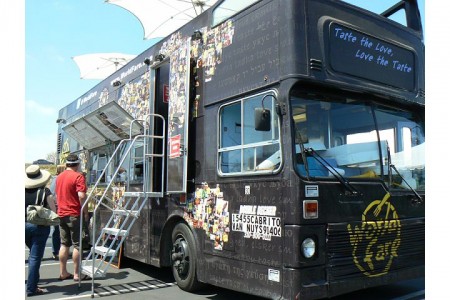 Although there were officially declared favorites, the three of us unofficially agreed that the top banana — while bananas are served as an option on top of loukas, which are Greek donuts – should have gone to Louks Greek Gourmet To Go food truck. We think their lamb chops might be the best we have ever had. In fact, they were so good that we decided to take some home with us.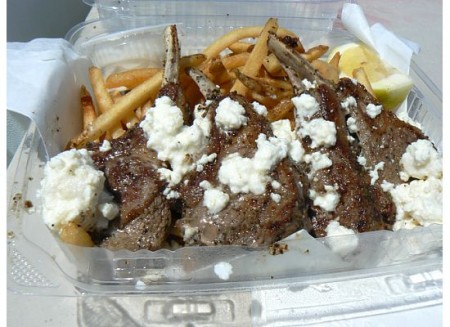 Apparently many others agreed, because while we ran back there at the end of our day, stood in line and paid for the perfectly seasoned and prepared chops, they ran out just one person shy of us.  To their credit, Louks refunded our money and served up an equally tasty Gyro sandwich as a substitute free of charge. Thanks for being so gracious, Louks!
Our next stop was the World Fare Bustaurant, a double-decker with room the top to eat and enjoy the people watching.  Our truffle infused macaroni and cheese balls were mouth watering. And we washed them down with a strawberry-basil-lemonade that was to-die-for. It had just the perfect amount of the basil flavor added to the tasty drink.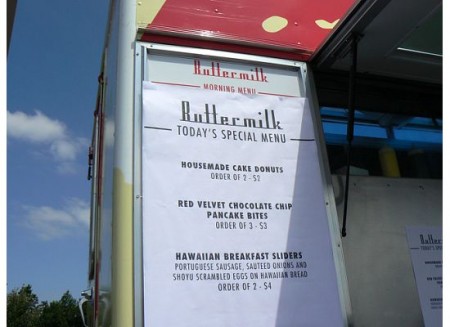 The last truck we ate from, Piaggio on Wheels, offered a truly a diverse cuisine. We could not resist trying the water served in a real coconut, empanadas and a bacon wrapped hot dog topped with both chipotle and chimichurri sauce. It was all delicious and truly gourmet food.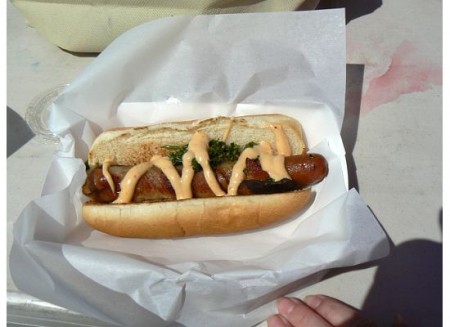 We would be remiss if we didn't mention that all of the shopping provided by the Patchwork vendors was top notch and high quality. There was also an art show with live painting from eVocal, plus live local music and an area devoted just to kids. The O C Foodie Fest also gave back to the community, with a percentage of the proceeds going to three local charities, Child SHARE, St. Vincent's Meals on Wheels and Pretend City.
The OC Foodie Fest was meant to bring exposure to the growing market in Orange County for food trucks, as well as to give the opportunity for LA trucks to branch out into a new area.  It succeeded on so many levels that we can't wait for the next one!
THANKS to our Guest Blogger, Bonnie Flamm and event photographer, Andrea Stein for the excellent report and photos — I hope to attend next time.  Learn here where the trucks might be going next or follow them on Twitter.