See what's cooking at the OC Fair this year: Featuring 23 Days of Iconic Fair food, Celebrity Chefs, Craft Beer & Culinary Competitions and Exhibits — The 2014 OC Fair is cooking up a delicious summer for Fairgoers. From July 11 to August 10, 2014, the OC Fair is serving up summer fun, along with culinary events and new Fair food that are definitely worth the trip.
Chicken Charlie is introducing the new-for-2014 Deep-Fried Doritos and Deep-Fried Chicken Skin in addition to his classic favorite fried treats of Oreos, cookie dough and Twinkies.
Bacon A-Fair is introducing Bacon-Wrapped Jack Daniels, a unique churro concoction with a little whiskey kick at the end (non-alcoholic). Also, a deep-fried bacon-wrapped turkey leg!
Biggy's Meat Market is bringing gluten-free options this summer with GF hamburger buns, fries & a newly gluten-free The Big Rib.
Texas Donuts is putting a twist on its popular giant donuts with new flavors like Cherry Pop Rocks, Banana Chocolate Cream and Peanut Butter Cup. Also new this year, a Latin twist with the new deep-fried Gansito.
OC Fair Foodies, the OC Fair's food-themed costumed characters, are back this summer. Join Olivia Orange, Cotton Candy Carl, Arturo Churro, Cornelius Corn and Ice Cream Scoop as they delight Fairgoers.
$2 Taste of Fair Food, held every Friday from Noon-4 p.m., offers Fairgoers the chance to taste Fair food for $2 per item. Fun-sized samples include funnel cake, tri-tip, lemonade, cinnamon rolls, corn dogs, tacos, gelato, cotton candy and more.
OC Brew Hee Haw, a craft beer roundup, is July 11-13 and will bring some of the best local craft beers to OC Fairgoers for five sessions of beer tastings, demonstrations and exhibits. Visit

ocbrewheehaw.com

for details and tickets.
Celebrity Chefs will bring their colorful cooking skills to The Hangar stage on three Thursdays. Scheduled appearances, include Carla Hall, co-host ABC's lifestyle series "The Chew" (July 17, 4 p.m.); Roy Choi, founder of the famous Korean taco truck, Kogi BBQ (July 24, 4 p.m.); and Kelsey Nixon, host of her own show, "Kelsey's Essentials" on the Cooking Channel (July 31, 4p.m.) Free with Fair admission and autograph sessions will follow each appearance. Presented by Vons.
Chef Challenge will put talented culinary professionals in competition against each other with a themed cook-off every Friday at 7 p.m.: July 18 (Earth), July 25 (Water), August 1 (Air) and August 8 (Fire). Free with Fair admission.
Special Culinary Contests include Eating Smart Starts Here (July 19), Hot! Hot! Hot! Chili, Wings or Salsa (July 26), OC Cupcake Classic (August 2) and Fairtastic Food (August 9). Registration is the Wednesday before each contest. For a complete list, visit

ocfair.com/competitions

.
Daily Culinary Demonstrations can be enjoyed for free in the OC Promenade throughout the run of Fair. The Bakeology exhibit will highlight the wondrous things a baker can create from just butter, flour, eggs and sugar with daily demonstrations by Blackmarket Bakery chefs. Chef Ray Duey will carve works of art out of fruits and vegetables. Master Food Preserver Ernest Miller will teach Fairgoers how to preserve fresh vegetables, sauces and more. Artist Shaile Socher will create delicate edible sugar art and Cake Decorator Greggy Soriano (July 11-27 only) will make cake go from bland to grand.
Award-Winning Wines are available by the taste or glass in the Wine Courtyard throughout the Fair, and on weekends wine-lovers can learn more about the various varietals during the Orange County Wine Society's Wine Seminars (most require an additional fee).
Centennial Farm, the OC Fair & Event Center's year-round, three-acre demonstration farm is complete with crops, livestock and the Millennium Barn. Fairgoers can check out educational exhibits, agricultural organizations and the fruit and vegetable competitions.
The 2014 OC Fair, themed Summer Starts Here, is July 11 – August 10 and will bring 23 days of food, rides, exhibits, animals, music, action sports and fun, as well as the Super Pass, Toyota Summer Concert Series at the Pacific Amphitheatre and events in The Hangar and Action Sports Arena. The Fair is open Wednesday-Sunday. Concert tickets, action sports reserved seats, single-day general admission and the popular Super Pass are available for purchase online at ocfair.com or from the on-site Box Office. Free parking and shuttle service are available on Saturdays and Sundays from the Experian parking structure located off the Bristol St. exit of the 405 freeway.   The OC Fair & Event Center is located off the 405 and 55 freeways at 88 Fair Drive in Costa Mesa. For more information, please visit ocfair.com.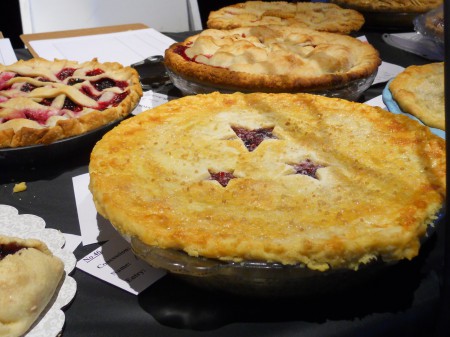 Credits:  Photos were taken during previous visits to the Orange County Fair and text is republished from the OC Fair & Event Center Communications Department.