The Slidebar Rock-N-Roll Kitchen — I love rock and roll and great food, especially together.  I had been to The Slidebar before to see a Black Sabbath cover band, but never ate there until recently. I didn't know that The Slidebar's full-name literally includes the word kitchen.  Now I know.
We were invited to The Slidebar to try the Cali Bandito Tacos — YES!  Yes, because they are made with Gringo Bandito Hot Sauce and we are fans of The Offspring, plus it's good Hot Sauce. Dexter Holland, the singer of The Offspring makes Gringo Bandito Hot Sauce.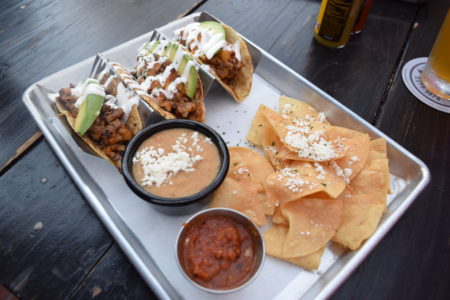 Carne Asada and Portobello Mushrooms are marinated in Gringo Bandito's Original Red Hot Sauce for The Slidebar's Cali Bandito Tacos.  The Mushrooms are marinated for the vegetarian version of the Cali Bandito Taco.  We tried both and really liked both.  Though I often prefer vegetarian, the Carne Asada Taco was my favorite.  The Beef was tender and very flavorful.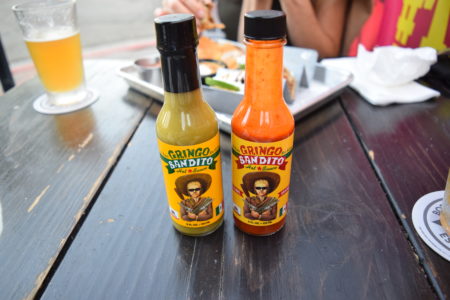 We're told these Tacos pair best with a Modern Times IPA and we agree that the Orderville paired well. And as good as the Red Hot Sauce is, I like Gringo Bandito's Green Hot Sauce better.
I wish I was there (above) eating them right now with this photographer.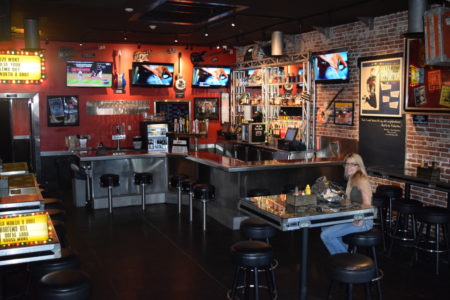 Aside from The Slidebar's cool interior, exterior and bands, I learned that most of their food is made from scratch.  The Salsa, Chips and Beans on the plate with the Tacos are all made from scratch.  And the Tortillas for the Tacos too.  All made from scratch.  It's not just bar food.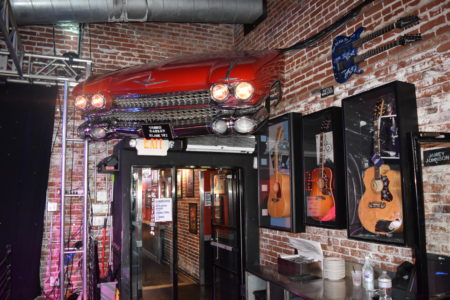 I am impressed with Chef Brandon at The Slidebar.  Each dish tasted to be made with love.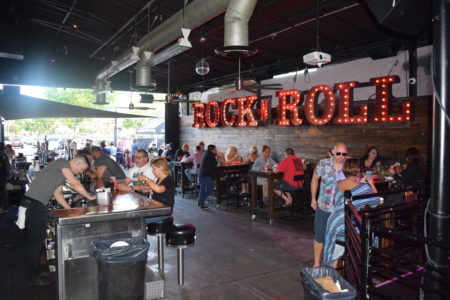 My biggest take away — The SlideBAR is The Slidebar Rock-N-Roll KITCHEN.  I want more of their made from scratch food.  They say… Grub You Crave – Scratch Made, and we know it's true.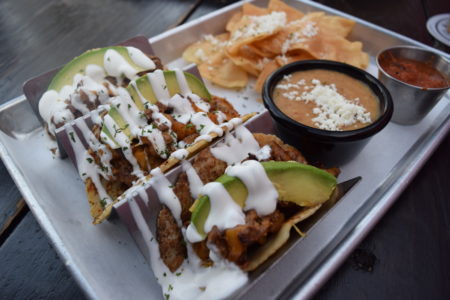 Related:  The nearby Burger Parlor makes a Gringo Bandito Tostada Burger that's terrific too.