Bacchus Bar & Bistro: The Roman God Of Wine Is In Irvine.
Bacchus Bar & Bistro — Classy is a word that comes to mind.  It may look small on the outside tucked in a corner, but there's a lot of stylish space inside.  Their menu is impressive too.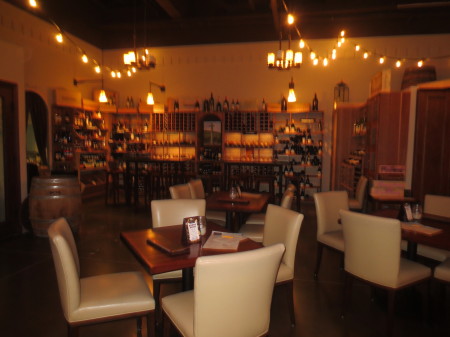 I'm happy to discover Bacchus Bar & Bistro (formerly Bacchus Secret Cellar) — It's down the street from my Irvine office, in the Quail Hill Shopping Center, amongst other businesses.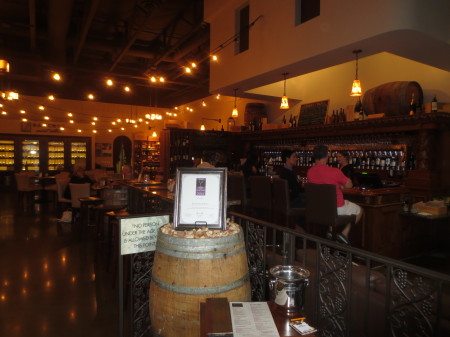 It's a perfect place to gather with friends after work — A plan is in the works.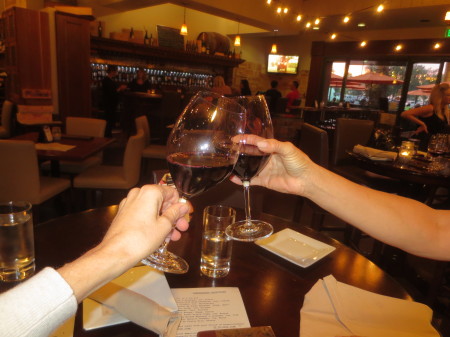 There is comfortable seating throughout — Tall and short tables, couches and a bar.
We tried a few menu items this visit — The Warm Roasted Brussels Sprouts with Chinese Sausage, Shishito Peppers, Fried Garlic and Sesame Ponzu (above).  There's more to be tried.
Lobster & Spanish Chorizo Fondue with Manchego Cheese, Smoked Peppers and Cream Cheese, served with a French Baguette (above) — It's creamy, unique and pretty good.
We also had the Prosciutto Flatbread with Fontina, Gorgonzola, Fig Jam & Red Onion (above) and the Butterscotch Pot De Creme (below).  The Fig Jam was terrific on the Flatbread and the consistency and flavor of the Pot De Creme was ideal, though rich, but not overly so.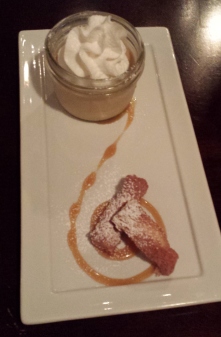 It's a seamless Wine Store along its parameters and the prices are surprisingly good for such an expensive looking place. Their food prices are reasonable too, another reason to go back. And there's live entertainment… A guy played the guitar in front of the Wine Case behind me.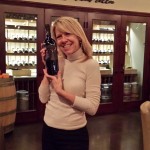 The Roman God of Wine's Wine was delicious as well — Thanks Bacchus!
Note: Camera issues beset this visit. Subsequent dishes shall be posted as clear updates.