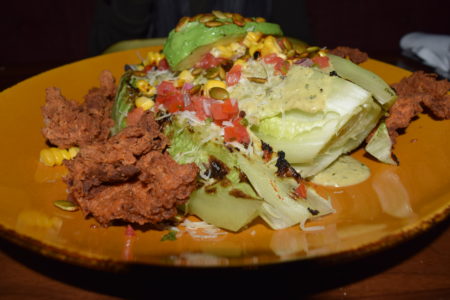 It was really love at first sight and bite at Jimmy's Famous American Tavern (JFAT).
First, I love Jimmy's Famous American Tavern's MENU and pretty much want to try everything listed.  I reviewed their menu online before visiting this JFAT in Brea — It's one of five JFAT locations. The others are in Dana Point, San Diego, Woodland Hills and Santa Monica.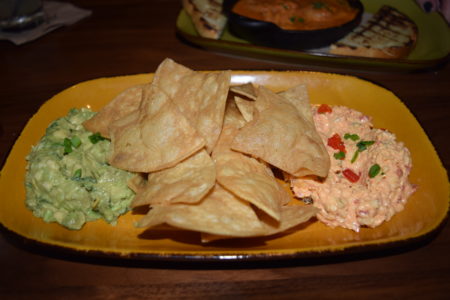 Before tasting anything, we appreciated JFAT's exterior entrance lights, outdoor patio and courtyard view, and its dimly lit, stylish America-inspired interior.  God Bless America indeed.
My first bite came from the Pimento Cheese Dip in JFAT's Dueling Southern Dips.  It's served with a Roasted Corn & Poblano Guacamole and Tortilla Chips — And wow.  We were happy with the amount of flavor in both Dips.  Every dish we shared had an amazing amount of flavor.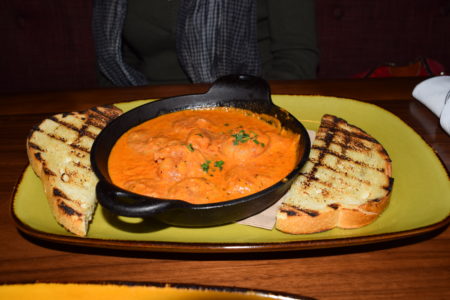 It was love at first bite in conjunction with its appealing sight — Pictured from top down is JFAT's Signature Grilled Santa Fe Caesar Salad with Fried Chicken, the Dueling Southern Dips, the Whisky Shrimp, and BBQ Spice Crusted Salmon with Creamed Corn, Green Beans, Bacon and Crispy Onions.  Each dish was seasoned, grilled and prepared well.  Nothing is bland at JFAT.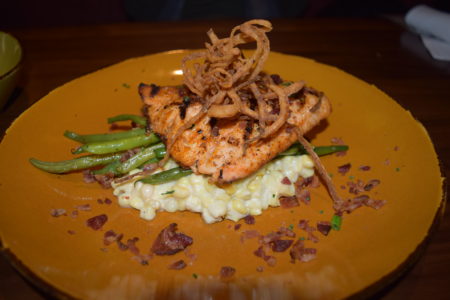 I'm pictured below with Chef Kim.  He is so nice and worked hard to make our plates great.  Good people work at JFAT.  We also thank Manager Todd Cords for his superior hospitality.  When we have time, there is much more to go back for — The FOOD, cocktails, atmosphere and friendliness.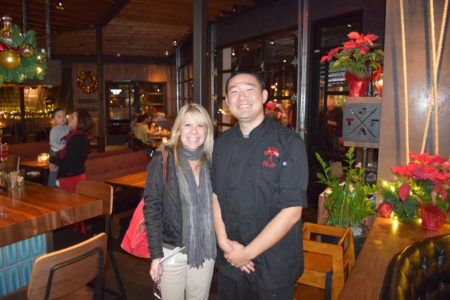 I've highlighted, at least, ten dishes I want to try — They include JFAT's Boneless Short Rib Stroganoff, White Truffle Mac and Five Cheese, Charred Brussels Sprouts, Santa Fe Honey-Poblano Pesto Grilled Flatbread, etc.  Enlarge menu below or see link here to view food and drink options.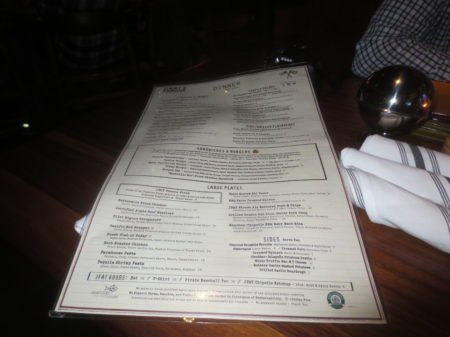 My favorite JFAT Cocktail was the Cucumber Cooler.  It's made with Finlandia Vodka, St. Germain, Fresh Cucumber and Lemon Juice.  See Jimmy's Famous American Tavern's full list of "Liquid" items here.  JFAT says get in here and we want to get back there.  ASAP.