Tortilla Republic In Laguna Beach: It Really Is A Feast For All Our Senses.
First, we LOVE Tortilla Republic's location, location, location.  It's in Laguna Beach off PCH with an outdoor patio view of the ocean.  We recently sampled a few items from its Brunch Menu.
Though it's often hard to park in the heart of Laguna Beach, there's a small parking structure directly behind Tortilla Republic.  It's best to park there, as there were spaces available.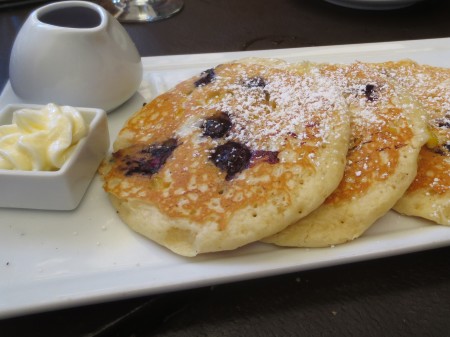 Tortilla Republic's Brunch Menu is impressive — Several items are pictured here.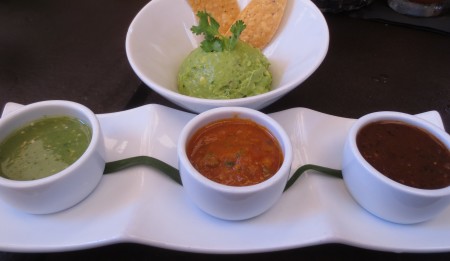 I highly recommend the Salsa Trio and Guacamole sides (above).  All three Salsas were different and flavorful, and the Guacamole was fresh, dense and excellent tasting.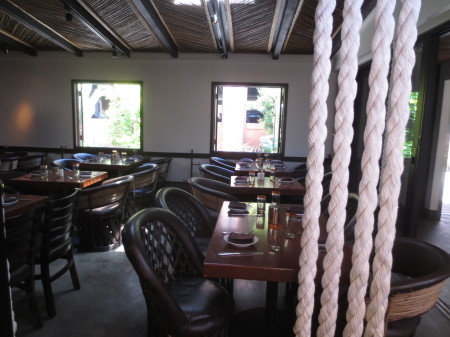 My photos don't do it justice — It's a cool looking, nautical-ish, dark and light, stylish place.
The front is completely open to allow most inside to view the ocean across the street.
They have a Brunch, Lunch, Afternoon and Dinner Menu and/or Bar for just a drink.
I'm not sure, but believe the above is a Hibiscus Margarita — They offer many unique drinks.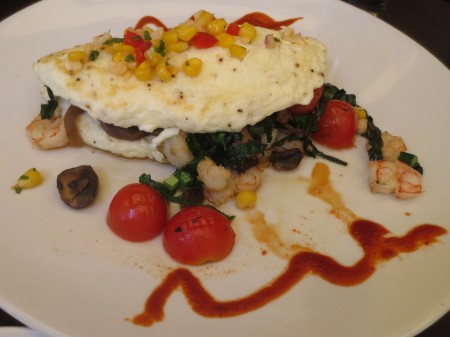 Pictured from top down, we tried Tortilla Republic's Huevos Rancheros, Fresh Corn & Blueberry Pancakes, aforementioned Salsa Trio and Guacamole, and Egg White Omelete.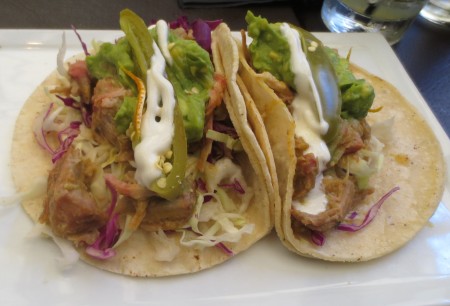 Carnitas Tacos (above) — See Tortilla Republic's Menus for additional descriptions of all.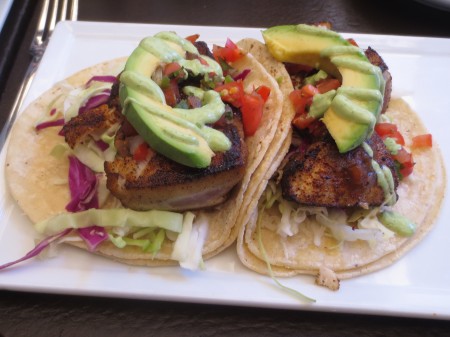 Pescado a la Parrilla aka Seared Albacore Tuna Taco (above).
Chilaquiles (above).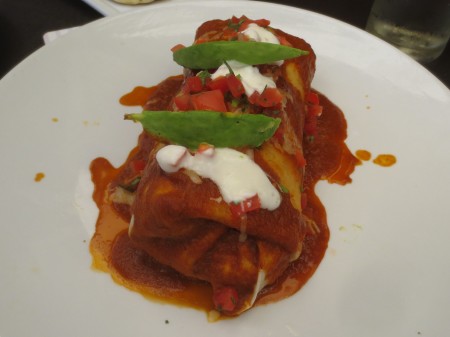 Machaca Burrito (above).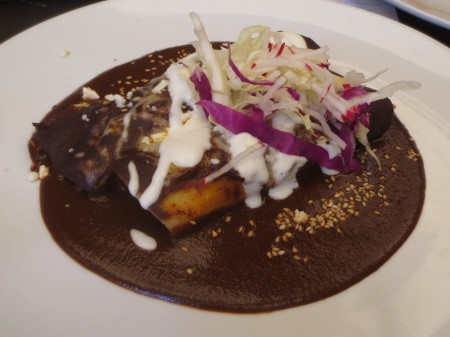 Mole Enchiladas (above).
Black Beans & Mexican Rice, a side option.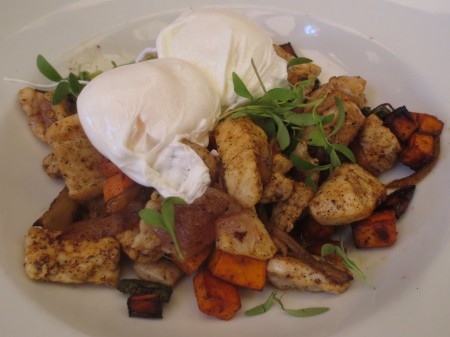 Seared Albacore Tuna & Sweet Potato Hash, served with two Poached Eggs (above).
At Tortilla Republic Restaurant in Laguna Beach — View from inside looking out.
Hallway in and out — It's hard to see, but it's the sea, past the nice cars out front.
Cheers to Tortilla Republic with their Prickly Pear Bellini!