Last year we planted six Tomato plants in one raised bed and this year we only planted four.  Though we love an abundance of Tomatoes, we could hardly get to them.  It became a Tomato jungle we had to forge through.  They look sparse now, but we hope to have the same luck this year.
In our other raised garden, we planted Jalapenos, Poblano Peppers, Japanese Eggplant, Red, Brown & White Onions, Cilantro, Curly Parsley, Purple Basil, Lime Basil, Pineapple Sage and Thyme.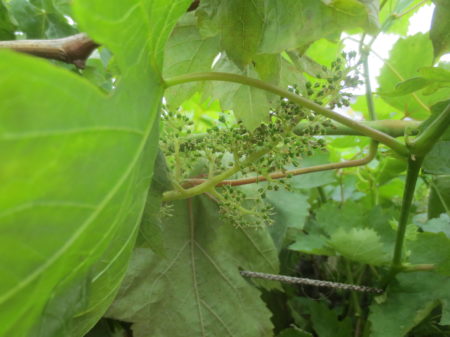 We're seeing at least ten small clusters of Grapes growing on the old Grape vine.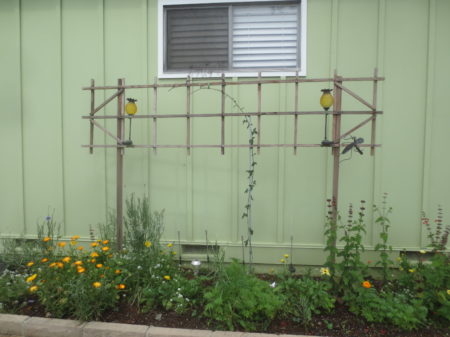 We bought a two-inch Boysenberry vine from Knott's Berry Farm last year and we're happy that it continues to grow.  We hope to see Boysenberries on it some year down the road.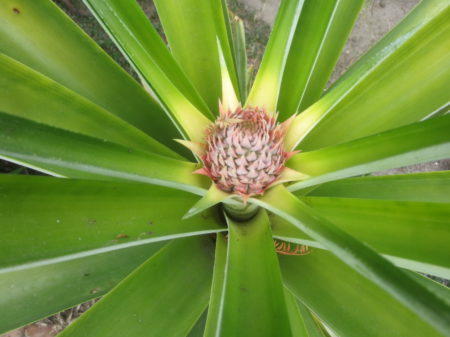 Matt has a green thumb, and especially a Pineapple green thumb — We have one starting above, one maturing below, and four others that we're hoping will do something.  He's grown several.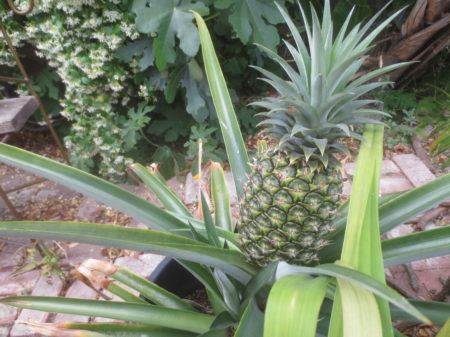 Wild Blackberries grow on the other side of the house — They're great to have, but VERY thorn-ey.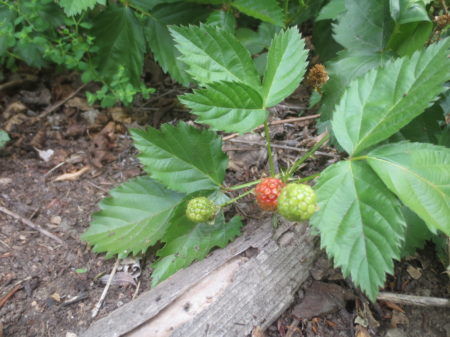 Serrano Peppers grow throughout the year in a couple other pots, whether we want them or not.
Zucchini is growing in another corner of the yard.  I have not grown it before.
And Oyster Mushrooms are growing in the house — In a Mini Mushroom Farm we got from Home Depot.  We soaked its internal plastic bag in water for a day, cut an 'X' in the front of it and returned it to its box to grow.  Pictured below is five days growth.  It's fun to watch them grow so fast.
For non-edible enjoyment, flowers grow in the side planter below.  We planted hundreds of miscellaneous flower seeds to yield a flower-grab-bag to surprise us all summer long.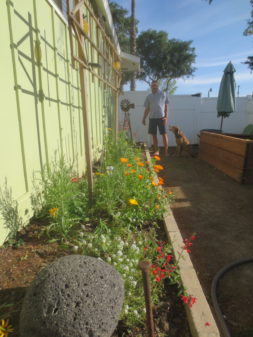 I had the sign below made for our garden shed — FW stands for Freis West.  Most of the Freis live back East.  In Michigan and Wisconsin.  They're Freis East and we're Freis West (FW for short).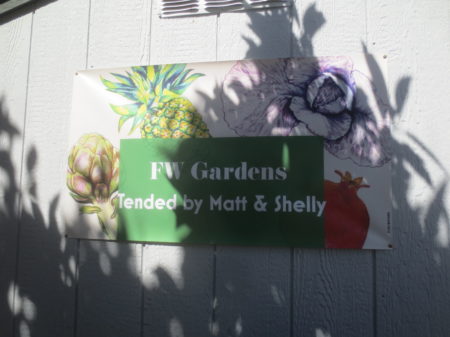 We're also growing Meyer Lemons, Limes, Tangelos and Rosemary (not pictured) and tend to our gardens daily.  We're grateful to see all grow and will share the abundance in a few months.