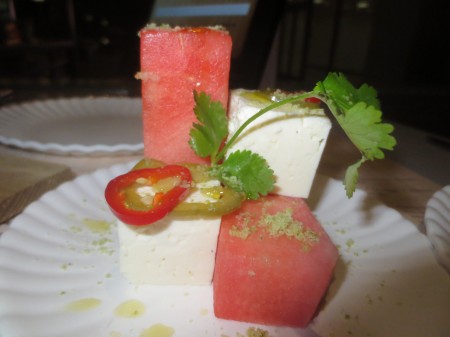 I love sharing small plates of food and Hors D'Oeuvres and I just discovered Saint Marc — That's Saint Marc Pub-Cafe´ Bakery & Cheese Affinage.  They offer an amazing, lengthy selection of Hors D'Oeuvres, Bacon Bites, Bacon by the Slice, and much more.  It's in Pacific City, a new-ish indoor/outdoor ocean-front shopping, dining and entertainment center in Huntington Beach.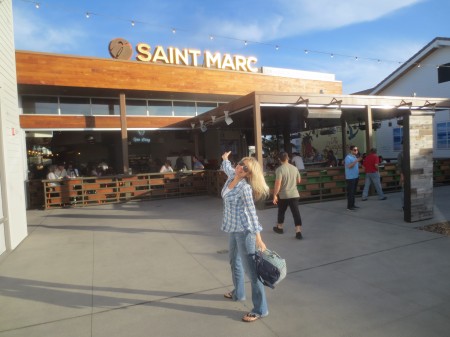 Saint Marc is located upstairs towards the south end at Pacific City.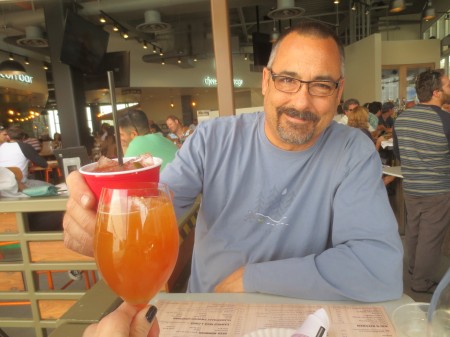 It's an open air indoor/outdoor restaurant, bar, bakery and specialty ingredient shop.  If a table isn't reserved, seat yourself and secure an iPad for your table — You'll need one to order food and drinks via Saint Marc's Touch Menu.  View the food photos and prices, select items and order at your leisure.  Stagger your selections or order all at once.  You'll also need to swipe a credit card to start.
We've dined at Saint Marc twice in the last few weeks and I'm ready to go back < Read that hunny?
When I'm hooked on a dish or restaurant, I want it again and again, and right now it's Saint Marc.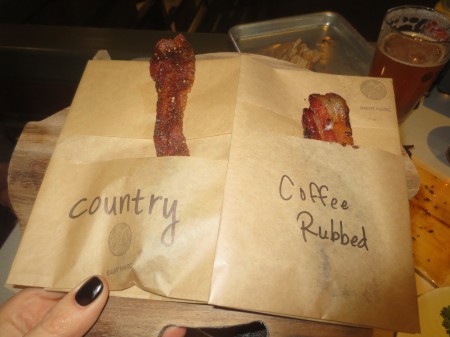 We've only tried a few of Saint Marc's fabulous sounding menu items and have our sights on others. Pictured from top down is the Watermelon, Feta & Jalapeno stack and select Bacon Slices.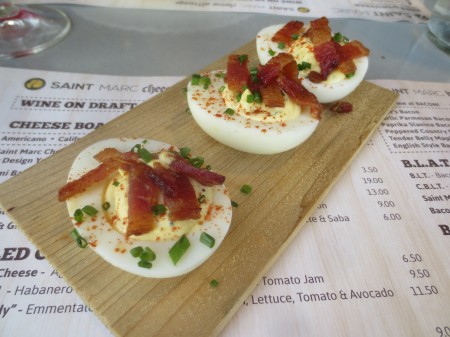 Bacon & Eggs, Saint Marc's version of Deviled Eggs.  The Bacon makes them.
Bacon Wrapped Dates — One of my favorites.  I plan to try the Bacon Wrapped Artichokes next.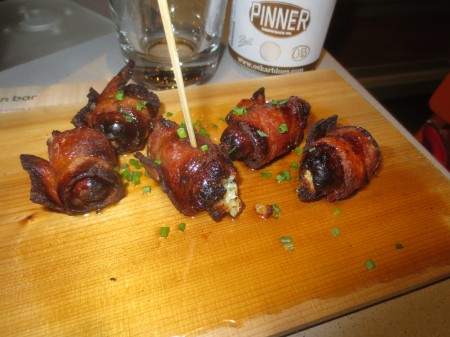 Swedish Meatballs served in a cast iron skillet.
Blue Celery & Walnuts — Celery stuffed with a Blue Cheese spread, topped with Walnuts.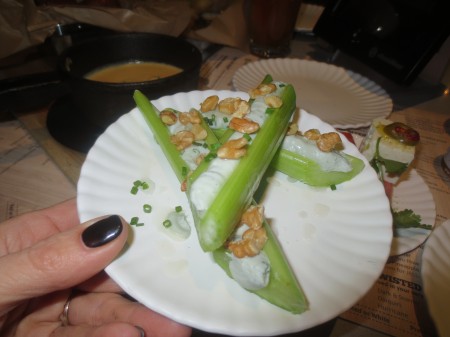 Pretzel Bites & Beer Cheese — The Beer Cheese Sauce is perfect.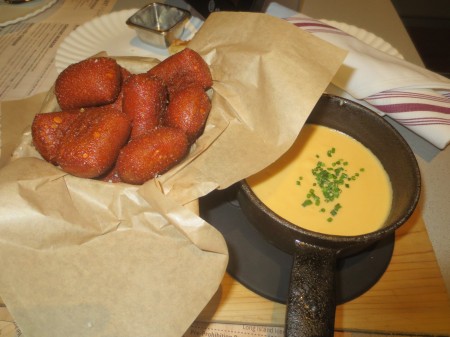 Avocado Crostini — You only get one big one per order.  It's a bit hard to share, but we did.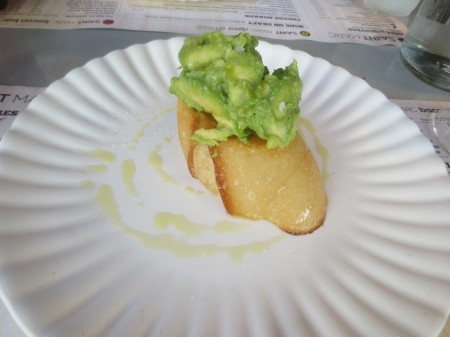 The Crostini Bread is really good.
Burrata & Grape Essence, it's called (above) — Burrata is a creamy Cheese.  It's not Ice Cream on top of that Bread.  I've decided I'm not much of a Burrata fan, like others proclaim these days.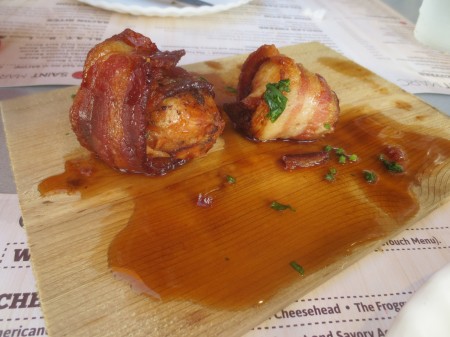 Rumaki — Bacon Wrapped Chicken & Water Chestnuts with a Ginger Glaze.  The Chicken was a little dry, but they're working on improving it we're told or they'll take it off the menu.  They care.
Tender Belly Maple Bacon, another slice we tried — Next time I want to try the Apple Pie Bacon.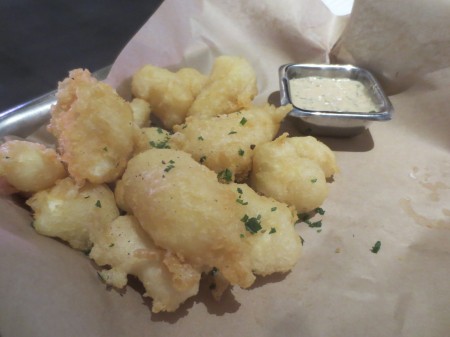 Wisconsin Cheese Curds — Matt had to have them.  I usually don't like the texture of Cheese Curds, but I ended up liking these (above).  Maybe because they are fried.  I liked the batter too.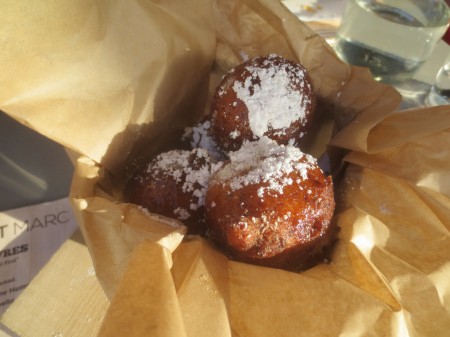 And I haven't even mentioned the Desserts — Lagniappe on the menu, a little something extra. We had the Beignets and Chocolate Fondue.  The Fondue Chocolate Sauce is the best I've had.
An upscale Spork will be your utensil and food is delivered by Saint Marc's Free Flow Ambassadors.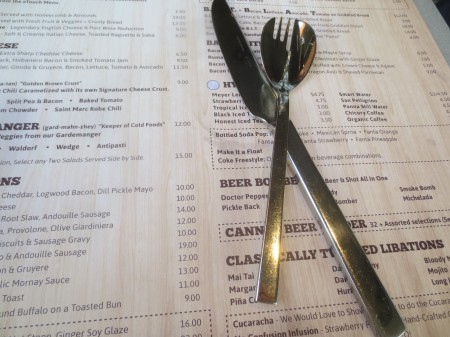 In front of Saint Marc again — It's a stylish, inviting place, day or night.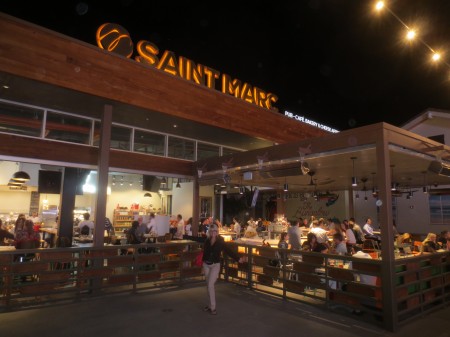 We'll be back, though there are several interesting restaurants to choose from at Pacific City.