Archive for July, 2015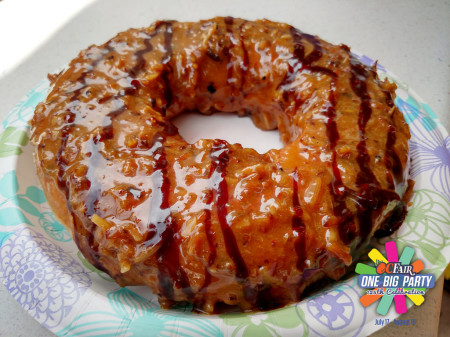 The Orange County Fair is happening NOW through August 16, 2015 — We'll soon be there to taste some of the new FOOD items they're serving up this year.  The BIG LIST is here: List of New and Interesting Food at the 2015 OC Fair.  Pictured is the Samoa Donut, a jumbo Donut designed after the popular Girl Scout Cookie, the Samoa aka Caramel DeLite, my favorite, made with Chocolate, Caramel and Coconut shavings.  We may have to try it.  We LOVE the OC Fair!
Credit:  Thank you to the OC Fair Communication's Department for the photo and list.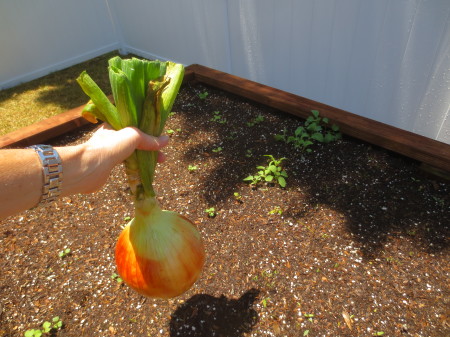 Would you believe we grew this?  You shouldn't because we didn't.  We bought it at the Fullerton Market in downtown Fullerton.  Though I had a Sweet Onion at home, I had to get this giant one for $3.  You can see the size difference below, although it was more impressive in person. People stopped us to ask what it was.  It should've been entered in the Orange County Fair.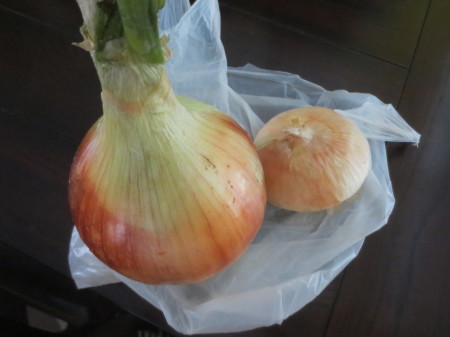 We continue to tend to our real life garden and we're starting to see the Radishes, Carrots, Eggplant, Purple Cabbage, Sweet Onion, Green Onion and possibly the Swiss Chard grow — We have a long way to go to grow such a large Onion and will be happy growing one that's any size.