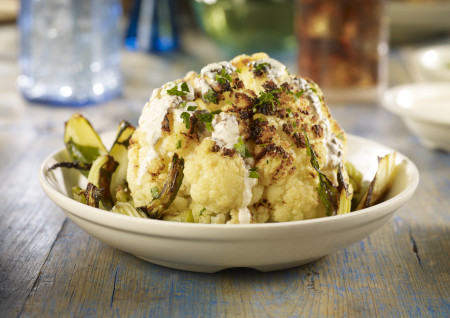 I've loved StoneFire Grill for a few years now and always get the same thing — The Lemon Garlic 1/2 Chicken and Gorgonzola Butter Tri Tip.  Both are consistently, absolutely amazing.
I didn't need anything else, until I recently tried several of StoneFire Grill's new menu items.  They're grilling, chopping and serving up much more than I ever realized.  It's a restaurant for everyone, especially me more often.  Everything they make has an abundance of flavor.
We tried new Sandwiches, Sides and other 'From The Grill' specialties I already want again.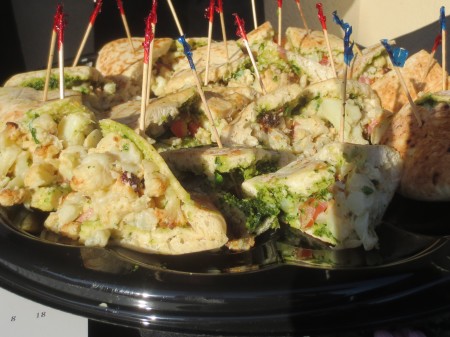 StoneFire Grill's MENU is here.
Photo of my first plate (above) and of one of my new favorite dishes (below) — The Shrimp with Lemon, Olive Oil, Garlic, Chili Flakes and chopped Parsley served with Quinoa.  So tasty!
And their 'Incredible Carrot Cake' is indeed incredible and very moist.
Other new favorites are the Whole Roasted Cauliflower (top photo) that's served warm topped with Lemon Tahini and chopped Parsley — It's a most impressive Side dish.
And my favorite Sandwich was the Roasted Cauliflower Pita — It's spicy, different and delicious.  There are currently seven StoneFire Grill locations.  Most photos here were taken a menu tasting in Irvine and the better ones were provided.  While there I learned that it all started with a large, close family and it's run by friendly, connected people.  They say… Let the fire spread from our kitchen to your heart.  It's shown through the food and people.