Top Chef All-Stars starts this Wednesday, December 1st on BRAVO — Bravo to that!  Here's the contestant line-up, which includes Fabio Viviani from Season 5.  He has a restaurant in Moorpark, California — Café Firenze, where Bonnie, our traveling Guest Blogger recently dined.  She raved about her experience, thus we're certainly rooting for him.  Other Top Chef All-Star picks will be selected after first airing.  Until then, Bonnie reports about her meal by Fabio.  I think she's in love.  I sure wish she'd get a camera, as her Fabio photo and most didn't turn out.  Nonetheless, I appreciate the report and wish I'd been there.  Go Fabio!
Fantastic Food, Fun & Fabio. Fabulous!  That's how I would sum up our dinner Saturday night at Café Firenze in Moorpark, California.
BRAVO TV's Top Chef Runner-Up and upcoming Top Chef "All Star" contender Fabio Viviani was on hand to greet us and, after spending several hours at his restaurant, I can assure you that you will not be disappointed. While he is just as charming off the screen as he is on it, it is his food that truly stands out as exceptional.
In fact, the five course tasting menu that Fabio designed especially for us was magnificent, but since we let him use his own discretion rather than ordering from the menu, I can't remember every detail.  There were three appetizers, including a silky smooth Imported Burrata Mozzarella, a pasta with homemade Duck sausage and a pancetta wrapped Jumbo Shrimp filled with gorgonzola cheese.  I think the latter was the best shrimp I have ever eaten.
The entrée consisted of grilled Colorado Lamb with braised pistachios – a truly unique combination of flavors – and the desert was something so creamy and luscious that all I can remember is how delicious it tasted, rather than its name.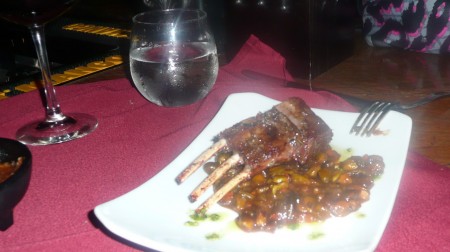 And dinner was a lot of fun too, thanks to bartender Damiano Carrara. What's with all the charming Italian men at Café Firenze?  I don't know, but Damiano's accent and prowess with a bottle — ala Tom Cruise in "Cocktail" – was quite the show.  His signature cocktails, one made with 2 Nite Vodka from Italy and the other with pomegranate were the perfect accompaniments to our tasting menu.
At this point I probably have convinced you about the food, but I have to inspire you with the interior design as well.  Naturally, everything has been imported from Italy (Firenze is the town where Fabio was born) and no detail was spared.  So don't forget to check out the coffered ceilings and stunning chandeliers.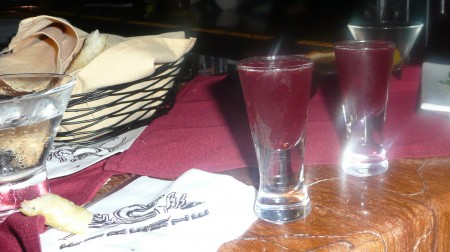 Moorpark isn't exactly known as a dining mecca, so Fabio's restaurant stands out as an exceptional experience.  I can't wait to go back!  Good luck on Wednesday night, Fabio, I will be rooting for you.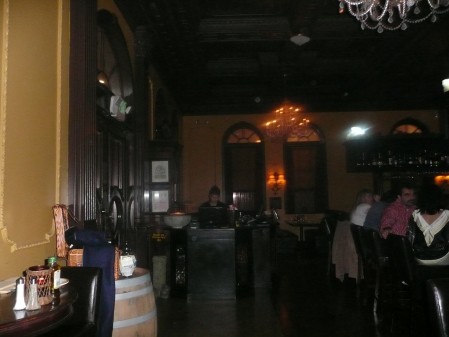 (Note that what we had is very similar to what is called "The Chef's Table" where you get five courses paired with either wine or martinis to compliment each dish for $75 each or five courses without alcohol for $50 each.  We loved this innovative concept.) 
by Bonnie Flamm, Guest Blogger, Interior Designer, Writer