The Taste Pavilion At The Foodbuzz Blogger Festival.
We picked up an empty glass and bag upon arrival at the City View at the Metreon in San Francisco, then filled 'em up over-and-over again with seemingly endless samples of Beer, Wine and FOOD.  It's what happened to 350 Food Bloggers during the Taste Pavilion, an afternoon prelude to the Gala Dinner commencing three hours later — The Foodbuzz Blogger Festival is an eating extravaganza. YEAH!
Only ended up taking a few photos here — I needed another arm, or two, or three — It was hard to eat, drink, write, shake hands, collect literature, and accept Beer, Wine and product samplings with just two hands.
The Frog Hollow Farm Pears were so juicy and a favorite from the event was their Granola.  It's some of the best I've had.  I wish I'd brought back another bag of it — Soooo good!
Willow Bird Baking was one of the six recipe winners and Nature's Pride Cooking Demonstrators at the Taste Pavilion.  Congratulations to all.
Fresh Express Salads, much needed greens.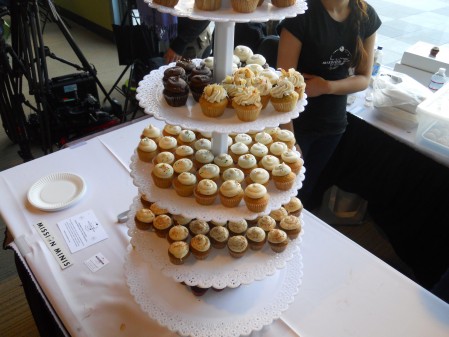 The Cupcake of the weekend seemed to be everywhere and dare I say they were just okay.  Maybe I didn't have the right one, because the Food Network was filming them for Cupcake Wars, or something like it — In love Food Bloggers will know better.
One of the coolest things there was the Buitoni Flip Book Booth, which converted short video clips into mini Flip Books – You then flip through the book pages to see yourself move — It's like watching an old fashioned mini movie.
I captured talented Food Bloggers, Chef Dennis, Korean American Mommy, CaffeIna and What's for Dinner Across State Lines making a Flip Book — What fun!
View from the Taste Pavilion — A new appetite had to happen before dinner and appetizers scheduled to be served three hours later.  It shall be reported as the final (1) in the 3-2-1 Foodbuzz Blogger Festival Wrap Up.