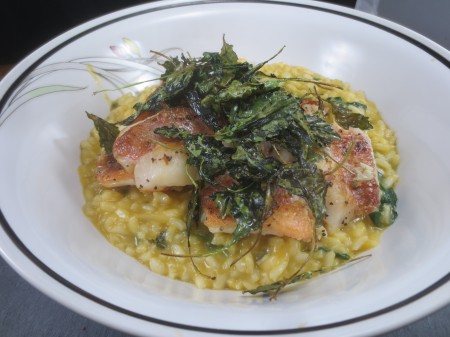 It's official — I've prepared 100+ Blue Apron recipes.  My husband counted them.  After two-hundred plus total dishes, I decided it was time to try a few other meal delivery companies.  At least three to start… Plated, Hello Fresh and Chef'd.  It's not because we don't like Blue Apron.  We love them.  I'm now curious how others' dishes compare.  Are they as flavorful and international?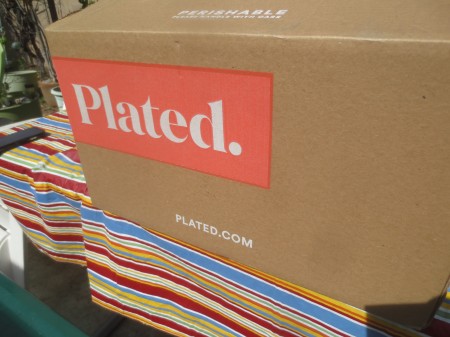 The Plated Report — Plated's box was huge and all was packed within a thick insulation that looked like it should be recycled in the garden.  Different than Blue Apron, but it kept all cold and fresh.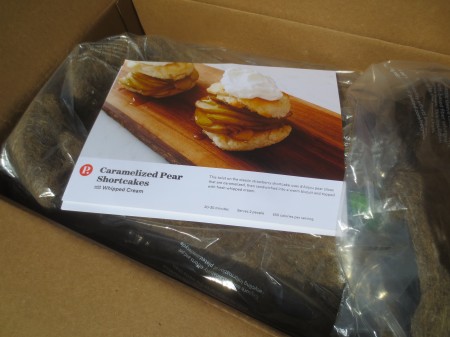 One of the BEST things about Plated is they offer Dessert.  Blue Apron currently does not.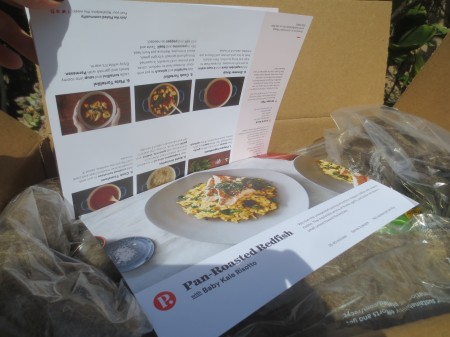 Dessert (recipe and ingredients) costs about $8 more, over Plated's meal plan — Most comparable to our Blue Apron Meal Plan (3 Meals for 2 People = $60), Plated offers (2 Meals for 2 People = $48 + $6 for shipping = $54).  Shipping is free with $50+ purchases.  I thus added one of Plated's weekly Desserts to try and to qualify for free shipping.  $56 was our total for 2 Meals and 1 Dessert for 2 People from Plated.  Leon thought all looked good upon arrival (below).  I did too.
Plated's recipes were well written and somewhat unique, like those offered by Blue Apron.  The pictured Plated meals were good, but none knocked our socks off, like many Blue Apron meals have. We also missed the third meal offered by Blue Apron.  Apples to Apples, the same Blue Apron Plan (3 Meals for 2 People = $60), costs $72 at Plated.  I wouldn't mind future meals from Plated, but I prefer to save money.  Plated is good, but they charge more for the same comparison of food.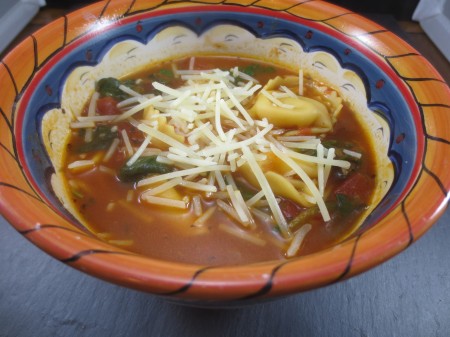 I prepared Plated's Pan-Roasted Redfish with Baby Kale Risotto (top), Cheese Tortellini with Basil and Spinach in Tomato Soup (above) and Caramelized Pear Shortcakes with Whipped Cream (below).  We liked the Pan-Roasted Redfish the best and the other two recipes were just average.  Plated's recipe cards are nice and large, but not as glossy as Blue Apron's.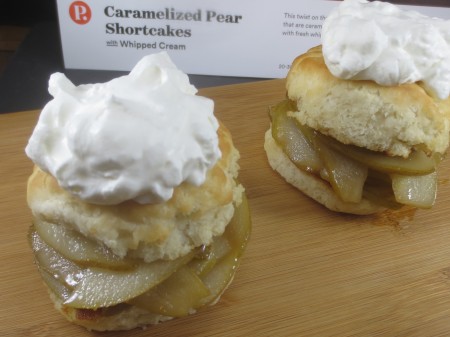 The Caramelized Pear Shortcakes aka Biscuits were already baked, which made preparation easier, but the Dessert not as homemade.  I may order from Plated again to try a different Dessert if its weekly menu sounds better than Blue Apron's weekly menu.  I'm currently subscribed to all listed herein, though opt for Blue Apron most of the time.  If interested in trying any meal delivery company, be sure to obtain a coupon or coupon code, as each offers a $20 – $60 discount on your first box.  Don't miss out on that.  Check back soon to read our Hello Fresh and Chef'd Reports.