Have you ever been to The Hobbit?  It's a restaurant and unique dining experience in Orange that has nothing to do with the novel, movie or Hobbit character, whew — At least I didn't see any visual cues of it, though didn't ask the origin of its name.  Regardless, it's simply a great place to possibly have the best meal of your life, if you have a few hours to spare.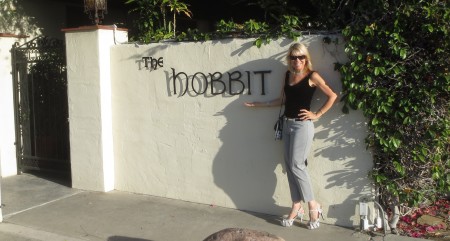 After years of hoping to dine at The Hobbit, my husband took me for my birthday, another reason why I married him this year.  Dining here could be an annual occasion, he may be afraid to learn, as it's not inexpensive, but worth the time and money — It's a good value, I think.
We've arrived — Who and what's behind the door?  Looks like a speakeasy slot, I like it.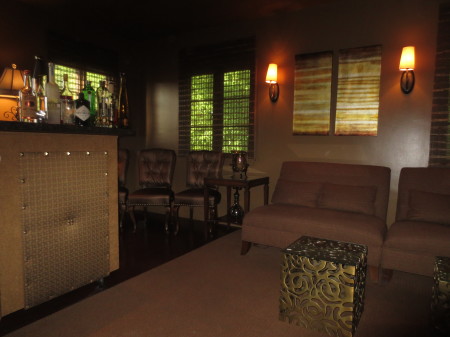 We started with a Glass of Wine and seat in the Bar (above) — The Hobbit experience starts with an optional drink in the Bar, or in one of the other sitting areas inside or outside.
After orientation of the Bar and various rooms within an old converted house, all head downstairs to the Wine Cellar for Champagne & Hors d' Oeuvres (included in a fixed price).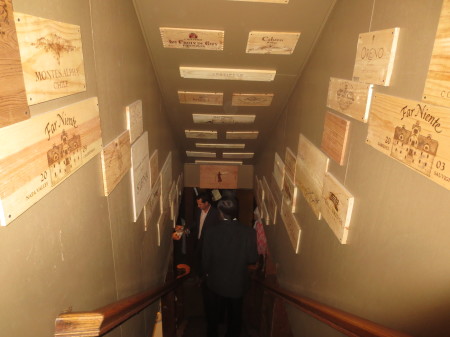 You may eat and enjoy as many Hors d' Oeuvres and drink as much Champagne as you like.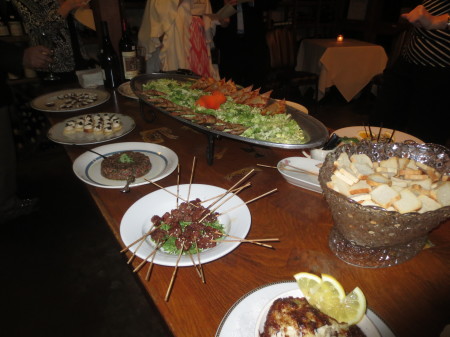 The photos don't do all justice – Each Hors d' Oeuvre was exceptional, delicious and top notch.
Busy trying everything while I could (about ten dishes over and over again), I didn't take notes — Amongst other dishes, they offered a smooth Liver Pâté, Steak Tartare, Beef Saté, Caviar, etc.  I'm personally not a big Caviar fan, but appreciate their generosity.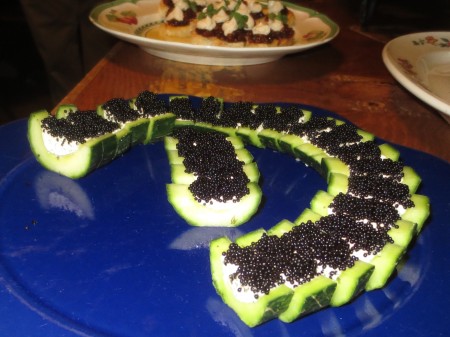 I loved The Hobbit's Steak Tartare — It was perfectly chilled and fresh.
If you like, while in the Wine Cellar, select a bottle of Wine to have with dinner.
The experience continues upstairs, from the Wine Cellar at a privately assigned table.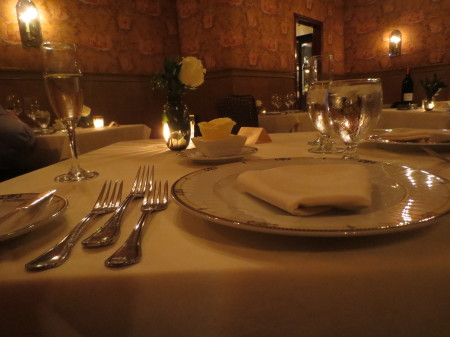 It's romantic too.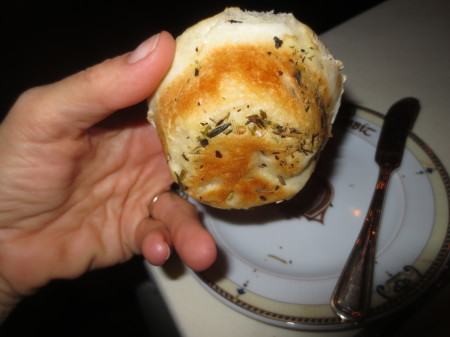 Even the Bread Roll was extra special, with a lot Herbs.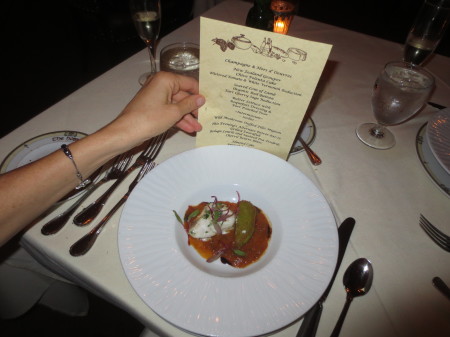 The Hobbit meals come with an ever-changing menu/program, with intermission and all.
Your menu will most likely be different, but ours included Seared Loin of Lamb with Organic Red Quinoa and a Tart Cherry Reduction (top photo), Butter Lettuce with Roquefort Dressing and Port Poached Pear (directly above), and Wild Mushroom Stuffed Filet Mignon (below).
Almond Cake, Apricot Ice Cream and a Chocolate Mascarpone Mousse (below).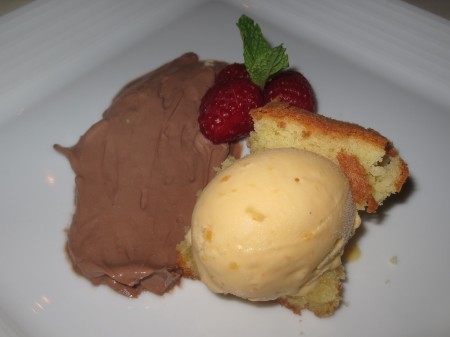 Enlarge photo with menu (above) to view descriptions of all dishes.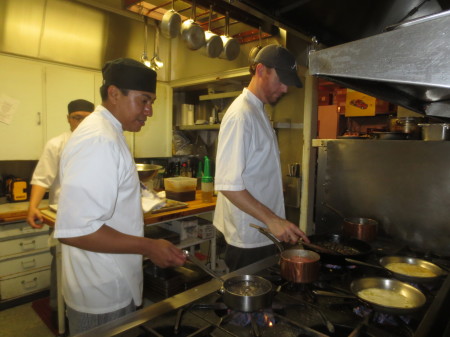 During intermission that's followed by Sorbet and the main entrée, we visited the kitchen and enjoyed our Wine on the outdoor patio, while hoping to make room for more food.
We toast to the Chefs and owners of The Hobbit — We LOVED our meal and time there.
Make another reservation for me, PLEASE!