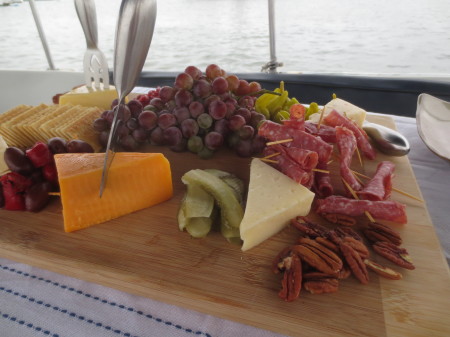 We rented a Luxury Electric Boat from Newport Fun Tours and cruised the Newport Beach Harbor with plenty to eat and drink for 90 minutes — You may have seen them on Groupon.
A Cheese Platter doesn't come with a Newport Fun Tours cruise — We brought it and the Grey Poupon too, just in case anyone asked for it, plus it goes well with a fabulous Cheese Platter.
Balboa Fun Zone view (below) from our Luxury Electric Boat — Well, I really wouldn't call it luxury, since our boat was a bit used looking, like an old water limo, but it ran well for us.
The day was cloudy, brightened with Cheese, Wine and cute, smiling serving utensils.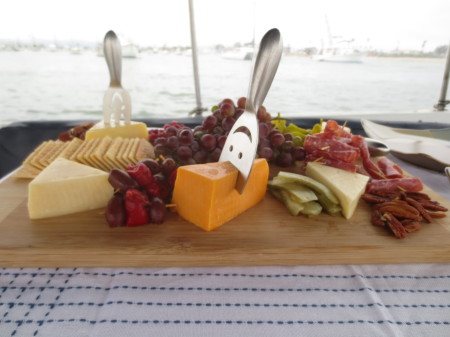 I made the pictured Cheese Platter with 5 kinds of Cheese, Salami, Crackers, Pecans, Grapes from our garden, Kalamata Olives and Roasted Red Peppers, Peperoncinis and Pickles, with Mustard on the side — A couple seagulls landed on the bow wanting some.  Negative, sorry.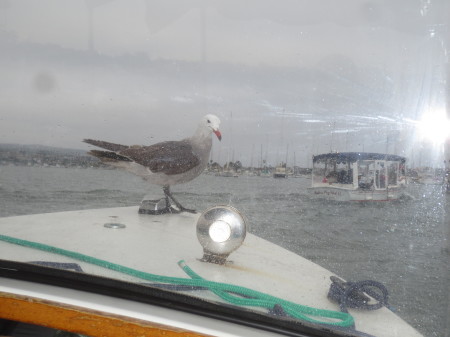 Wine and snacks are sold at Newport Fun Tours check-in, but the options aren't this good.