What to do on your birthday?  Leave on a cruise, especially if you don't have to fly first or drive far. I'm lucky to live by the Long Beach Port, where cruise ships depart, so that's what we did.  Yay!
I was willing to go on any cruise I could walk to, only if I had to that is.
And it was the Carnival Inspiration that set out for Ensenada the very day of my big day.
If you're considering the Carnival Inspiration, snapshots of the food and ship are shown here.
Though Carnival has or had somewhat of a bad reputation in comparison to other cruise lines, we have no complaints.  The Inspiration is an old ship, but we didn't mind it.  We'd prefer new, but knew we would make the most of it.  And we did.  Here are a few photos of our experience.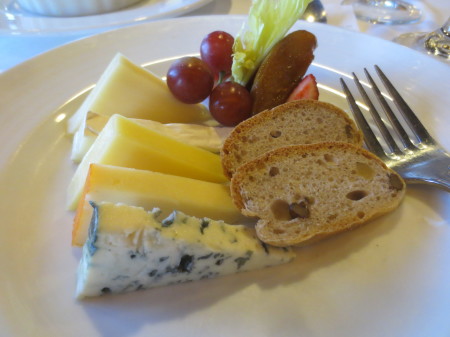 The food was good.  We liked everything okay, but didn't fall for any specific dish.
I didn't take notes and don't recall the names of the dishes, but the pictures show what you might get on a 3 – 4 day Carnival cruise — Seared Ahi, Escargot, Lobster, Ceviche, Beef Carpaccio, Salmon and Chicken dishes, Caesar Salads, Flat Breads and Cheese plates, just to name a few.
We had a bit of everything, plus what was available at the ever-changing Buffet (pictured at top).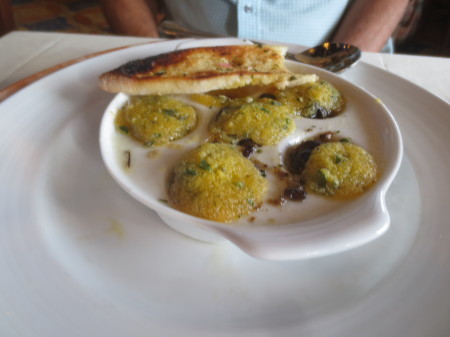 Escargot, common on cruise ships (above) — Matt had it.  Me, been there, done that and over it.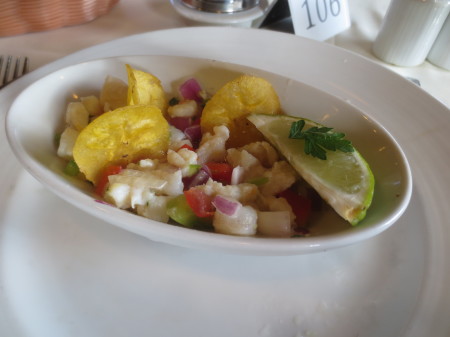 Ceviche (above) — Good, but needed more chips.  It's your right to have more of anything.
Stuffed Mushrooms (above).
Carpaccio (above) — I should have had more than one, since it's fairly costly in restaurants.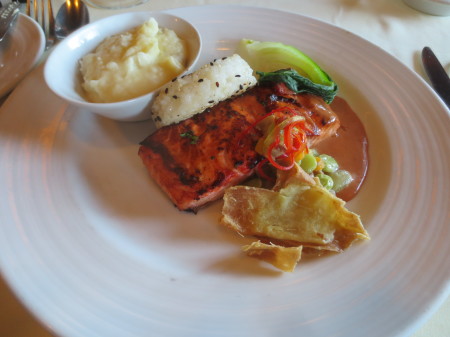 Various Salmon, Chicken and Beef dishes were available each evening in the dining room.
Carnival could work on plating as you see, but most dishes tasted better than they looked.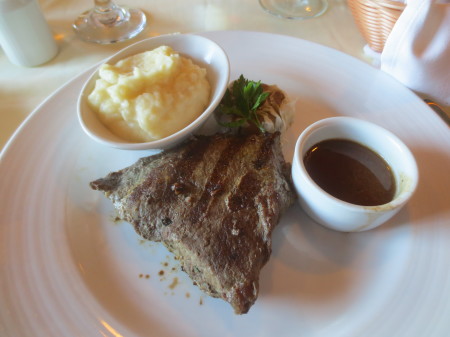 The Inspiration has a Game Room where we played Jenga — I don't recall who won, probably me. 🙂
We enjoyed the sunsets on deck too.
And whipped it up Gangnam Style in the Dining Room with the waiters.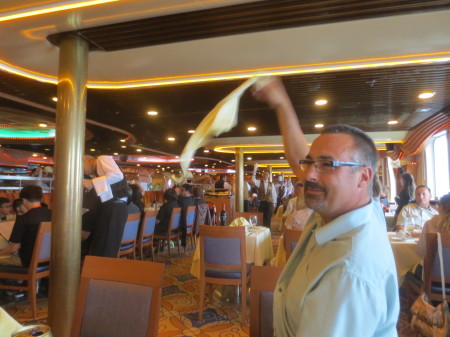 Overall, we would cruise with Carnival again.  It was a nice getaway and HAPPY birthday for me.