Celebrate Celebrations, Come On: There's A Party Going On Right Here.
The Turnip Rose Grand Newport Plaza, Celebrations and Elite Catering — A celebration to last throughout the years.  So bring your good times and your laughter too, they're gonna celebrate your party with you.  Everyone around Orange County come on.  It's a wonderful place for a memorable wedding (or event) and we got a taste of it.  Wow about everything!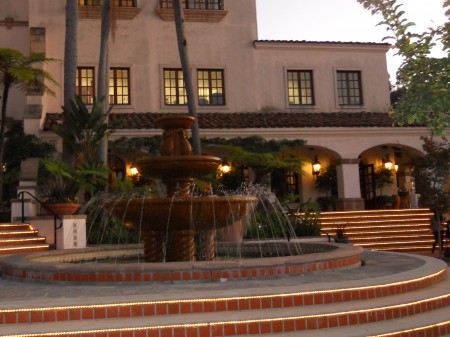 The venue, FOOD, decor and service couldn't be better and Celebrations couldn't be hipper.
At a "Taste of Turnip Rose" we tried a little (and in some cases a lot) of that being offered by The Turnip Rose Elite Catering and we're still talking about how great it all was.
This is your sample of our sampling of the Grand Buffet, California Classics Buffet and more.
All Chicken was tender and flavorful, not commonly said about wedding reception Chicken.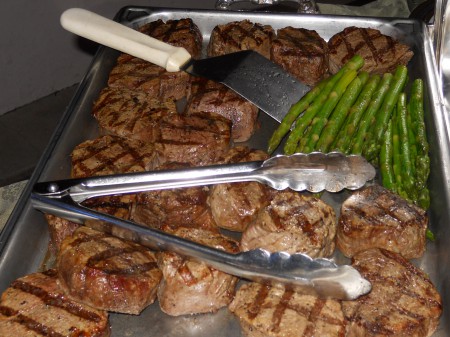 We're still marveling that each Filet Mignon being perfectly cooked.
Unique Scalloped Potatoes.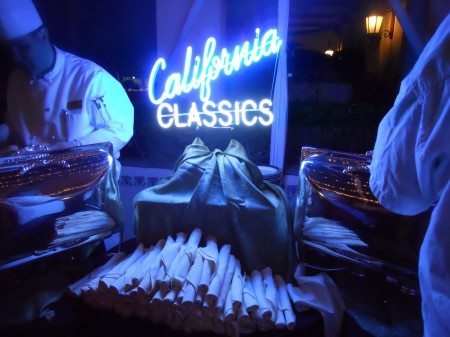 There were self serve and full service stations throughout the Ballroom at the Grand Newport Plaza.  We hit 'em all more than once and rolled out with giant smiles on our faces — More "Filet Mignon PLEASE" seemed to be our theme of the evening.  Gracias.
And many thank you, thank you, thank you's and WOW's.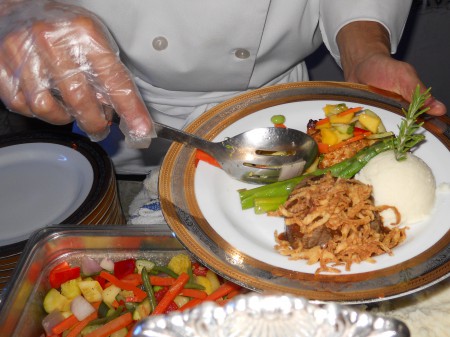 Mahi Mahi (below) to be plated and topped with a Cucumber Mango Salsa.
Filet Mignon and Mahi Mahi shared our third plate of food. 🙂
Flawlessly cooked Filet after Filet after Filet.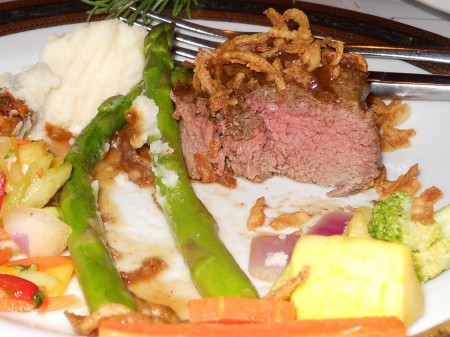 Sample table setting.
Pretty Special Martinis.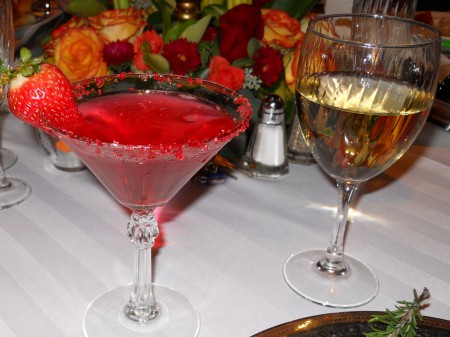 Hors D' Oeuvres were passed by well-dressed, friendly and knowledgeable Servers.
The Mandarin Chicken (above) tasted like the Sauce was basted in — Truly tasty alone.
The adorable Gourmet Sliders have Truffle Oil, yum-and-a-half regarding that.
Additional Martini options include the Filet Peppercorn Martini and others below.
Salad Buffet.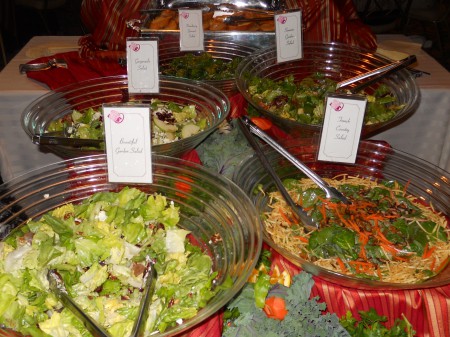 Peanut Butter Brownie Shooters and Mini Cupcakes.
Bride and Groom Strawberries.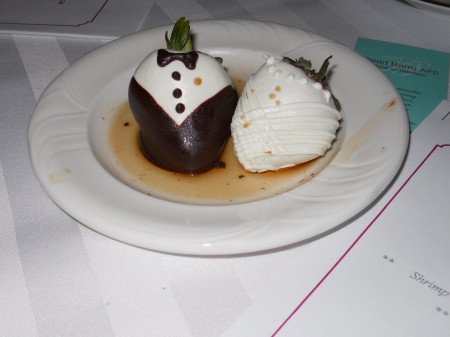 The service was impeccable and the affiliated DJ played great songs.
We met nice, soon-to-be Brides and Grooms including Nikki & Kyle.  Enlarge for a better view.
Sample food choices/options — You can't go wrong with The Turnip Rose Elite Catering.
Coffee Stations, a Chocolate Fountain and Liquor injected Strawberries in the courtyard.
Lots to dip.
The Festival of Strawberries, a Sweet Things item with an injection of Kahlua…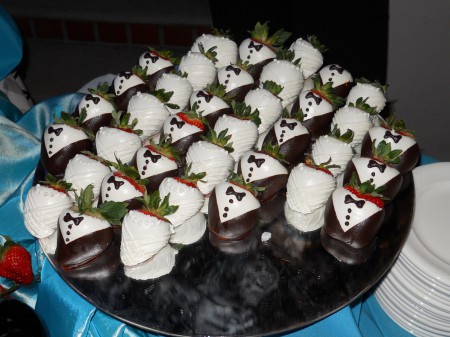 …Amaretto, Tia Maria, Drambuie or Grand Marnier, if you so choose.
Love is Sweet! Candy Buffet for guests to pack a box to go.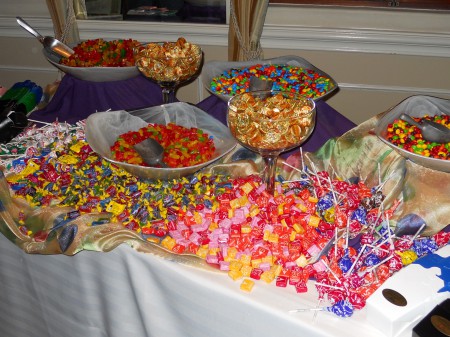 Fun for all ages — We enjoyed the Candy days after the event, a lingering memory.
On to the hippest, we ended the night with a personal tour of Celebrations.
Celebrations is the most stylish OC wedding venue I've seen — Every detail is covered too.
It's well designed and highlights each Bride and Groom in special ways.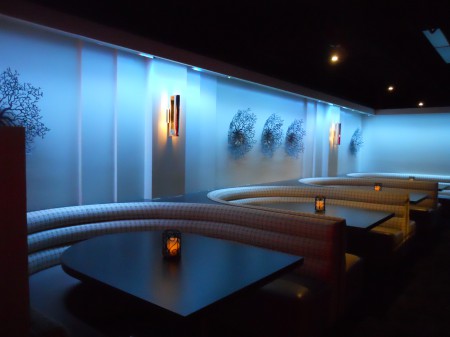 Nice lighting, monogrammed floors, a photo booth, nearby Bars, changing wall photos, etc.
Celebrations is located in the former Club Vegas space, $2M later and way better.
Guests will certainly be impressed with the place now.  We are!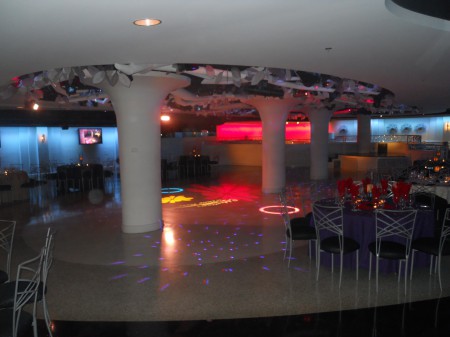 Choose your colors.
The kitchen is pristine too, like everything else there.  Was tempted to show the bathrooms.
As if all isn't enough, a Farewell Table was set up with Hot Tea, Coffee and Donuts.
Even the parking is pleasant and close to the Grand Newport Plaza and Celebrations.
We love Kelly, one of the nicest around — He runs all with his Brother and a dedicated team.
Full with a Farewell Table Donut bagged in hand — Let's celebrate, it's (more than) all right.
08/05/13 Update:  Visit The Turnip Rose website for venue information — The Grand Newport Plaza event room is no longer available, but Celebrations is going strong, and so is The Promenade Event Centre & Gardens in Costa Mesa.