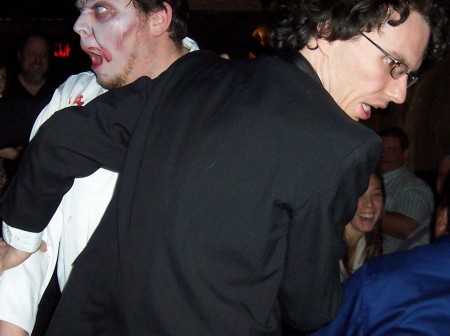 We dared to descend the darkened stairway (freight elevator) into the depths of The Cellar Restaurant to celebrate their 3rd Annual Trick or Eat Halloween Dinner Party.  They report that the lore of haunted restaurants is talked about, but nowhere is it truer than in The Cellar.  The space in which The Cellar inhabits was home to untold mysteries and the haunting of The Cellar is a closely guarded secret that's only revealed once a year.
Course One:  Radioactive abductor muscles in a pool of gamma charged ooze, black goop, and unearthed fungus AKA Pan Seared Sea Scallops with a Zesty Basil Sauce, Balsamic Reduction and Enoki Mushrooms.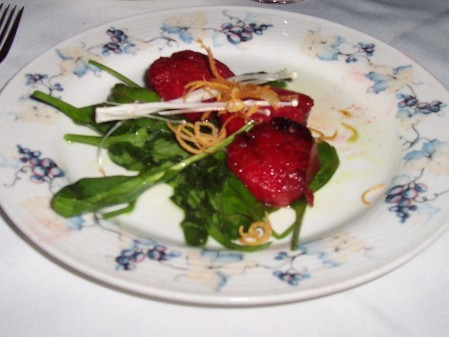 Course Two:  Dissected alien seed pods, toxic forest leaves in slimy secretions, with rotten and moldy milk AKA Mission Fig Salad with Baby Oak Leaf Lettuce, Maple Vinaigrette and Aged Gorgonzola.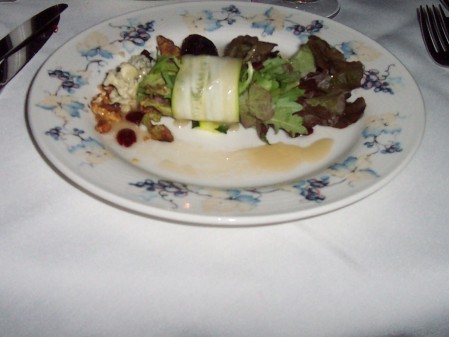 Main Course:  Fire charred boat deck aged fishing chum, steamed maggots, and finished with a gangrene and puss (yuck) sauce AKA Grilled Mahi Mahi with Savory Rice, finished with an Herbed Butter Sauce.
Or decayed cow muscles with slaughterhouse drippings and fungal growths AKA Grilled Flavorful Rib Eye Steak, with a Merlot and Mushroom Reduction.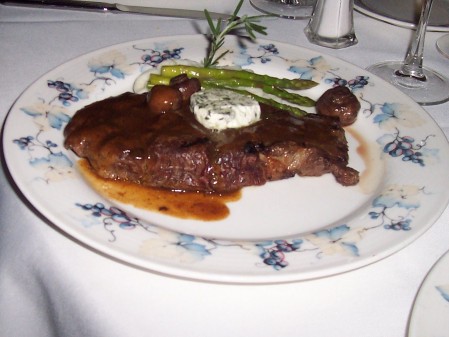 Dessert:  Graveyard mud soufflé with dried blood and bloody sacks AKA Chocolate Soufflé with Melted Dark Chocolate and Fresh Raspberries.
We thought the $49 price for all was pretty great and the show was entertaining.  The Scallops were just okay, a little rubbery, but the Mahi Mahi and Rib Eye Steak were definitely The Cellar's usual caliber.  It was so dark that we didn't know the sauce on the Mahi was bright green, until viewing the photos — Sorry a couple are out of focus.  Overall, it's a good deal and a fun experience.  It's sold out for tonight, but worth booking next year.  Luckily we survived the zombies.  Happy Halloween!