More Halloween Cookie & Cupcake Decorating Ideas.
As a fairly new tradition, a group of us get together to decorate Halloween Cookies.  These photos are from our 2nd annual gathering.  Above the Wicked Witch of the West is melting into several Cupcakes — They're made with green frosting, a upside-down Fudge Striped Cookie, a Hershey's Kiss and orange piped icing.  And the other is what the Wicked Witch of the East must have looked like after the house landed on her.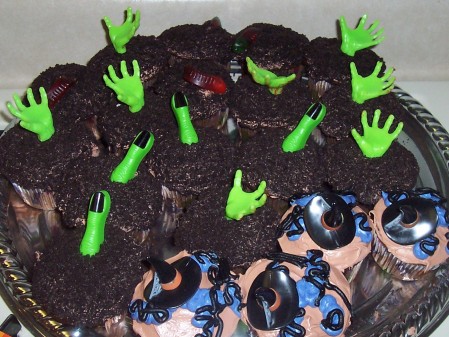 All the professional looking goodies in this post were prepared by our host, Loretta Shaw (a Personal Trainer by day and Creative Baker by night).  She seamlessly prepared the Chocolate Dipped Oreos and Graham Crackers, the White Chocolate Tangerine Bark and the Eyeball, Finger, Hand and Gummy Worm Cupcakes, while the rest of us decorated the Cookies she baked.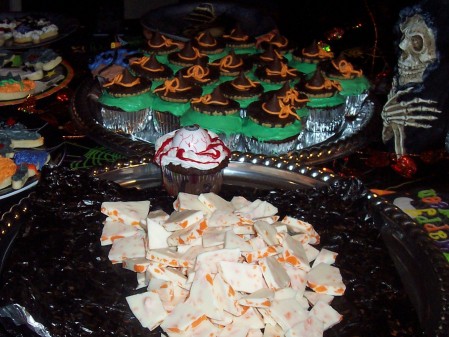 As noted in previous posts, decorating holiday Cookies, Cupcakes and Candies is a fun way to spend time with friends.  We have a blast, then get to take home the goodies to our awaiting families, who are much appreciative.  Enjoy the ideas and have your own Cookie party.
Be sure to check back every year, because we 5 Cookies (and another BFF missing from the photo) plan to keep decorating edible Cookies for many years to come.  Loretta (middle) is located in Orange County — If interested in having professional looking (and tasting) goodies prepared for your holiday party, please leave a detailed comment here and we'll get back to you.  Happy Halloween!