It's Il Garage (il garage ristorante) and it's set back within/behind Park Avenue Restaurant in Stanton off Beach Blvd. — It's a separate dining spot on the beautiful grounds of Park Avenue.
We ate at Park Avenue Restaurant — It's reported here.  This day we were in the garage. 😉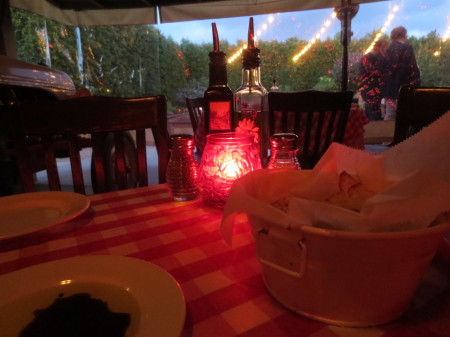 I'm not sure if it really once was a multi-car garage, but it looks like it, tractor and all.
The view of Park Avenue's famous Garden from our seat couldn't be beat.
The Il Garage Ristorante menu changes daily and is dependent on their gardens.
Our favorites were the Cavatappi Primavera (below), utilizing many vegetables from the PAG.
And the Orange Panna Cotta — Truly the best Panna Cotta we've had in our lives (below).
It had so much flavor — Cheers to that (and our Two Year Anniversary).
Enter the PAG — Park Avenue Garden through here (below).
The PAG is a dream garden, with raised beds and trees growing everything you'd want to eat.
I think I'd want to live here.
You're free to roam the gardens, no matter where you dine.
My husband, Matt is looking through the weather protectant, plastic drop, near the tractor.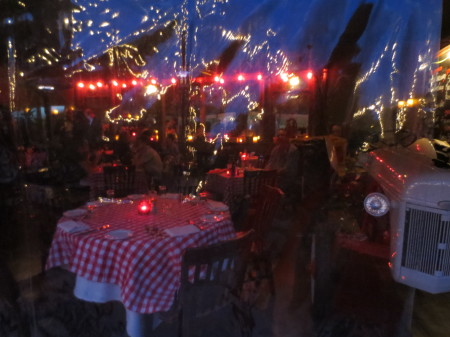 Nice to receive a $100 Gift Card as a Wedding Gift that can be used at either restaurant.
It's not in the best neighborhood, but once inside you forget about it — A good thing.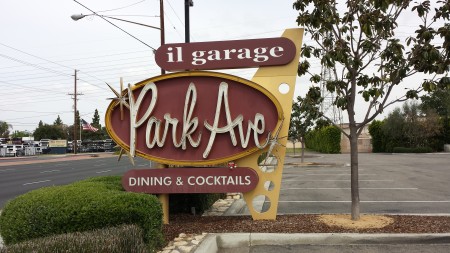 We plan to go back to both for Dining & Cocktails, as suggested.