Creamistry Ice Cream — Because Liquid Nitrogen is so cold, it causes the Milk particles to stay very small creating an ultra-smooth creamy texture, Creamistry reports, and after having it, I think it's the creamiest Ice Cream I've ever had.  It is CREEEE-MEE!  Creamistry Ice cream is made using Liquid Nitrogen while you watch and wait.  Fresh ingredients are frozen fast.
Chosen ingredients are frozen at 321 degrees turning all into a creamy goodness.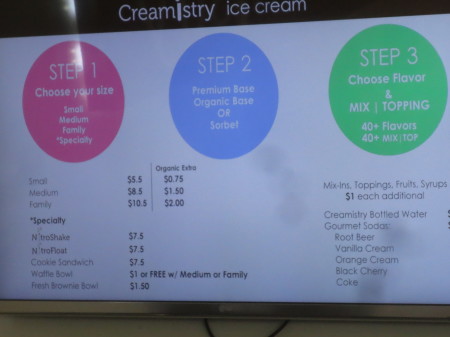 Choose your SIZE, pick your BASE, and then choose your FLAVOR and TOPPINGS.
I chose the PREMIUM BASE, Strawberry flavor with Roasted Almonds for a topping.
The Liquid Nitrogen fogs up the place like dry ice — It's fun to watch, though a little hard to see.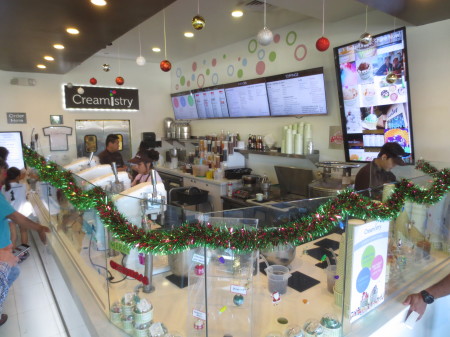 I met a family in line who traveled from San Clemente to Irvine just to get Ice Cream here.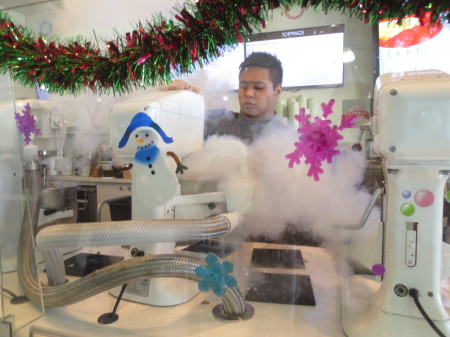 I liked it more than I expected and now find myself craving its creamy texture and want to try other flavors.  Creamistry offers a multitude of flavors and toppings creating a slight dilemma when choosing.  I must go back to try more.  It can take some time getting through the line when it's long and it's not cheap, but a little goes a long way.  It's ultra-rich, creamy and good.
I wanted to ask more questions about the process and see all clearly from start to finish, but it was a busy day at Creamistry in Irvine.  It's already loved by others, I've seen and heard, and now I like it too.  It's not just another Ice Cream.  It's fun to experience and different to taste.