Cherry On Top: Self Serve Frozen Yogurt Your Way.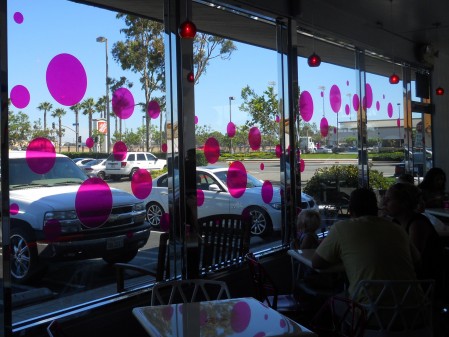 Looking out through the pink dots, I used to feel so uninspired… cause you make me feel like [wanting] a natural Yogurt — The semi-related song popped in my head and couldn't resist, since I actually was somehow inspired by the pink dots, natural Yogurt and fresh toppings at Cherry on Top.  As you may or may not know, we've been sampling various Frozen Yogurt shops all around town and just tried Cherry on Top.
We're fans of the tart flavors and really liked their Original Tart and Blueberry Pomegranate.  We were hoping to try the Lychee Tart (sometimes available), as we're currently hooked on Lychee's taste, but it wasn't being offered at the Huntington Beach location this day.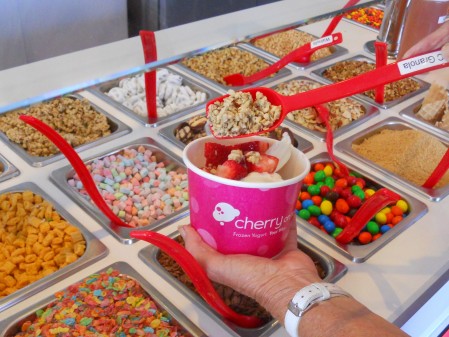 Each Yogurt shop we've tried has almost been better than the previous and we especially like the self serve options.  All have offered truly fresh fruit, along with a wonderland of colorful toppings that look equally good.  Although the topping selection is great, most are wasted on me, since I still can't get past the simple Granola, Blueberry, Mango and sliced Almond combination.  We'll go to Cherry on Top again.
09/13/10 Update:  For convenience, Cherry on Top will be opening the first drive-thru store of its kind — A first for any leading Frozen Yogurt company.  It'll open in Culver City in September.  Check their website for more information.