Doctored Up White Cake Mix Becomes Strawberry Lemonade Cupcakes.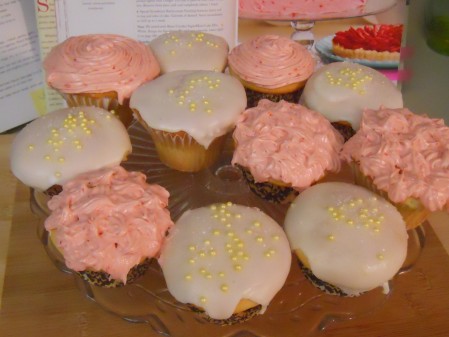 I just posted a Cupcake Report as the Orange County Food Examiner.  It's a fairly comprehensive report regarding Cupcakes in the OC.  The Strawberry Lemonade Cupcakes pictured above were made using a White Cake Mix base.  We added Lemon Zest and Vanilla Bean to the Batter and then frosted 1/2 with a real Strawberry Buttercream Frosting and the other 1/2 with a Lemon Glaze (Lemon Juice and Powdered Sugar) — They're fresh tasting and perfect for Summer Cupcakes.  We'll definitely make them again.
Above photos were taken during and after the OC Fair Cupcake Competition — Check out the Examiner links for more information about that competition and Cupcakes in general.