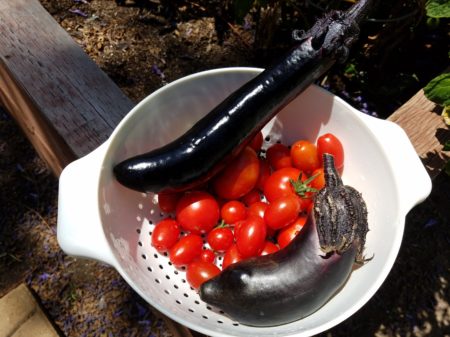 It's been an interesting year (so far) in the garden — Good and sad, but mostly good.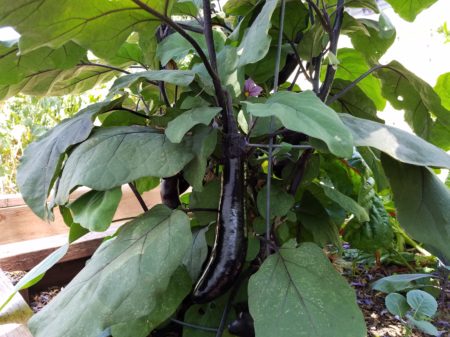 Japanese Eggplant grew so well for us last year, but it was during a total kitchen remodel, thus we were unable to enjoy them — And this year it's growing wonderfully for us again.  Yay!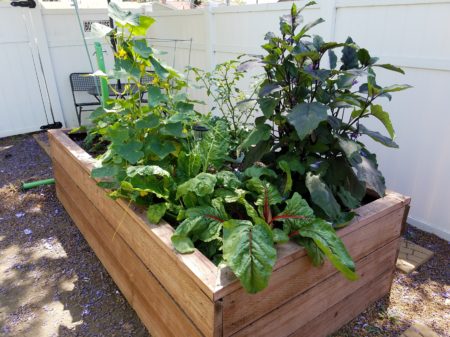 We are also having luck with Swiss Chard again this year.  I LOVE it, since it can be eaten raw or cooked, like Spinach.  We've also plucked out a few Beets, which I boiled for a Beet Salad with Olive Oil, Apple Cider Vinegar and Salt & Pepper.  Sadly, our Purple Cabbage plant is struggling beneath the towering Swiss Chard, Japanese Eggplant and Pickling Cucumbers.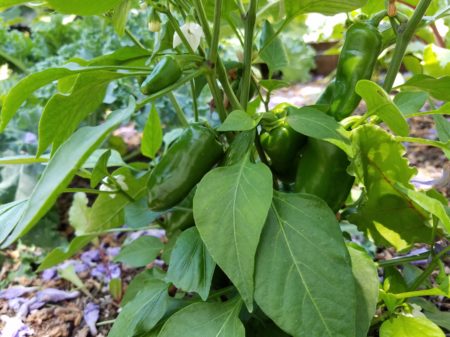 Soon to turn orange, Sweet Peppers are pictured above.  We have yellow ones growing too.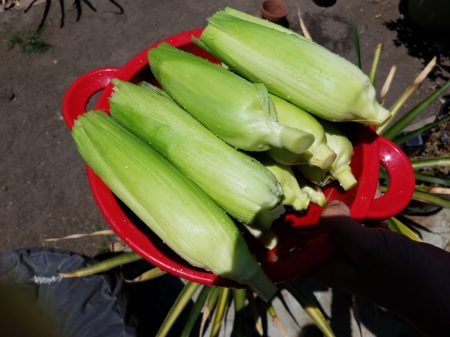 And we just harvested twelve ears of Corn that sure looked beautiful on the outside, but were sadly chewy inside.  We might have waited too long to pick them.  Not sure.  Instead, we plan to grow Autumn Corn next year.  We like the fun of opening each husk to view the pretty, mystery colors inside.  We can usually buy edible, relatively inexpensive Corn in the store.
Our four Tomato plants are a bit of a disappointment this year.  We don't have many Tomatoes and their skins are thick.  All taste good inside, but are tough on the outside.  I've been roasting them in the oven to easily remove their skins and use the insides in Vegetable and Pasta dishes.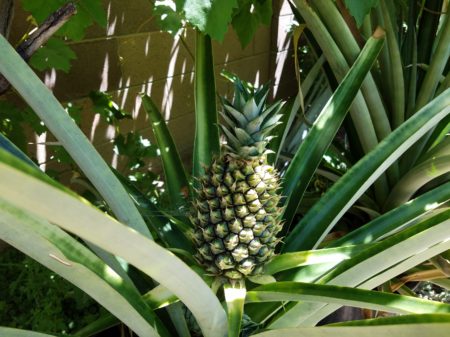 We're always growing Pineapples.  Well, Matt is.  He's the Pineapple King, as previously reported.  We have several growing in pots and in a designated Pineapple Patch next to the Tomatoes.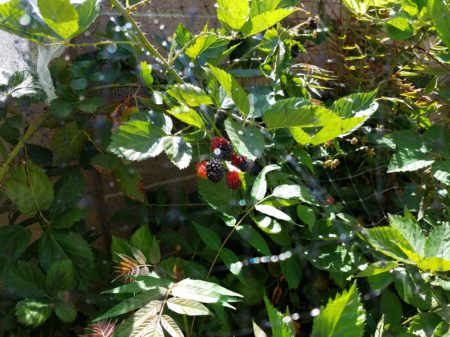 We've been eating Blackberries from our Blackberry bush for the past month, but its yield seems to be slowing down.  They've been sweet to eat, once past the bush's harsh thorns to pick 'em.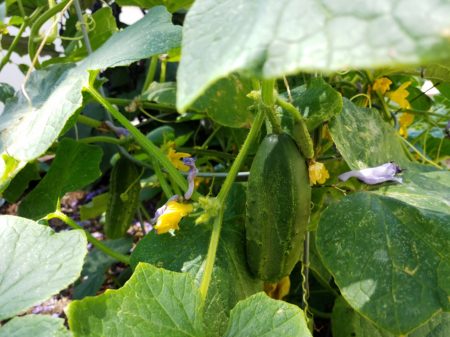 What to do with Pickling Cucumbers?  Yes, I've made Pickles a few times, but they just keep growing.  Tzatziki Sauce and Cucumber Salads are next.  The plant is beautiful with yellow flowers.
Not pictured — One Zucchini we're growing is quite large.  It appears to have doubled in size overnight.  I want to pick it, but Matt wants to see how large it will get.  We're also growing Salad Greens, Rosemary, Thyme, Basil and Kale to eat, which are all generally doing well.
We've been known to bring a large bowl of Purple Grapes to an Annual Fourth of July Party, but not this year.  The above is all we've got — One scrawny bunch.  Get out your magnifying glass to see them.  They are getting larger, so we will see if we get to eat them before the birds do.