It's food from El Amerikano American & Latin Kitchen in downtown Fullerton and I already have a favorite — Everything I've had so far, especially the Warm Mushroom Salad and Mole Eggplant.
El Amerikano is part of the Kentro Hospitality Group, a group offering tasteful restaurants (including Kentro Greek Kitchen, steps away from El Amerikano), event planning and catering options.
We were recently invited to a media tasting at El Amerikano and tried all pictured dishes.
From top down — Al Pastor Chop, Cucumber Ceviche Salad, Brussels Sprouts, Mole Eggplant, Asada Bravo and Warm Mushroom Salad, I think.  See El Amerikano's MENU for the enticing descriptions.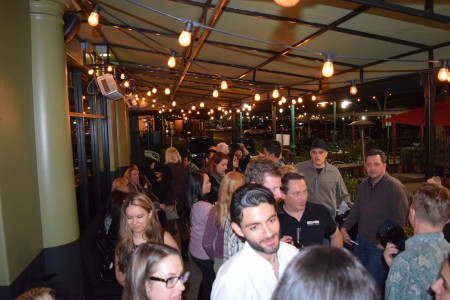 I was happy to learn they also have an outdoor patio, something I look for in a restaurant.
Each dish seems to have a double-digit list of ingredients and an abundance of flavor.
I like El Amerikano's 'To Share' dishes and prices, which range from $3 – $9.
As I write this and read their MENU, I'm planning my next meal there asap.
This taste of El Amerikano American & Latin Kitchen left me needing to have more.
I have sights on the Chorizo Sliders, Mac 'n Queso, Michoacan Caesar and more.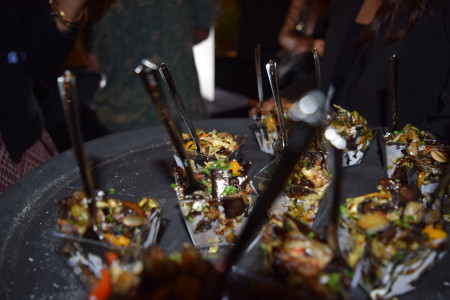 El Amerikano's Michoacan Caesar Salad has Char-Grilled Romaine, which I love when done right.
A cooking demonstration showed the care and time put into preparing their dishes.
Food is ordered at the counter, then delivered to you — They offer Beer and Wine too.
Entrance to El Amerikano (below) with Kentro Greek Kitchen nearby — Great food in Fullerton.
Enlarge MENU (below) for a better view or access their menu link here.
Me with Vasili Kotsiovos, El Amerikano and Kentro Greek Kitchen's should be proud Owner.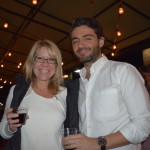 Thank you — We'll be back.