We're still not done eating at the Fair.  Madness, I call it Madness — Well listen buster you better start to move your feet to the rockinest rock steady beat of the Orange County Fair.
We appreciated the Foodie Tour and sampling of the indulgent and healthy OC Fair food.
The Pineapple Express by Chicken Charlie remarkably offers a few of the healthier options this year (in a Pineapple) — Naked Shrimp, Maui Chicken and a Shrimp Cocktail in a Pineapple.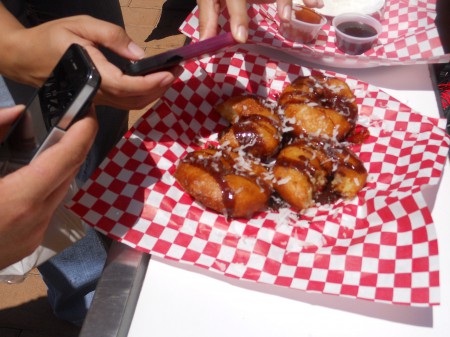 Fried Pineapple with Chocolate and Coconut (above).
Associated with Juicy, the food concession stands with music, is Dogsville (above).
They serve up Ham and Cheese Corn Dogs, Jumbo Sausages and more.
Chicken Kabobs by Charlie is an OC Fair staple.
Fried Cornish Game Hen from Baja Blues — How about a Carne Asada Stuffed Avocado?
Tasti Chips is family owned and treats Potatoes with tender loving care, from earth to Chip.
Tasti Chips deserve respect and they're most appetizing with the Jalapeno Cheese Sauce.
The Tasti Chips' group also mans Grant Burgers — They're not bad and have tasty Pickles.
And musn't leave out Bacon-A-Fair, where everything comes with Bacon.
Bacon Wrapped Hot Dogs.
A Pound of Bacon Wrapped around a Turkey Leg (below).
Cheese Stuffed Jalapenos Wrapped in Bacon.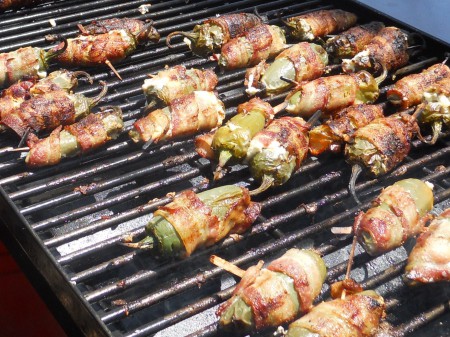 Beer Battered Deep Fried Bacon (below).
Deep Fried Beer Battered Bacon Dogs.
Bacon Wrapped Turkey Leg ready to be had.
Salted Chocolate Covered Bacon popularly photographed by Local Food Bloggers.
And my favorite Beef Brisket Sandwich is from the Chuckwagon.
I love this Sandwich and look forward to it every year.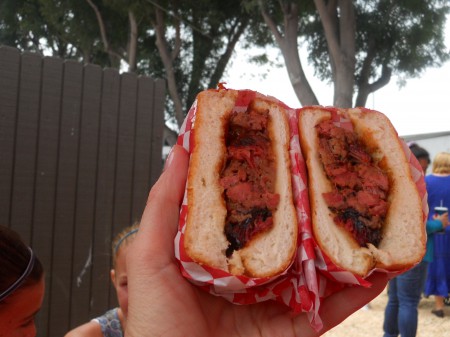 Corn on the Cob grills throughout.
There's a large amount of Meat.
Smokin' Meat — It makes it so good.
On Fridays, small tastes of most seen here and more are available for $2.
Mini and singular variations of Fair favorites are offered (examples above) — It's a great deal.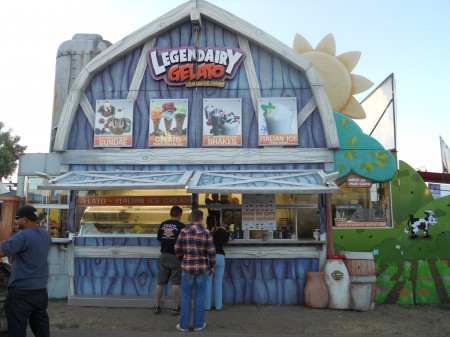 Legendairy Gelato has almost every flavor, including Birthday Cake — It really tastes like one.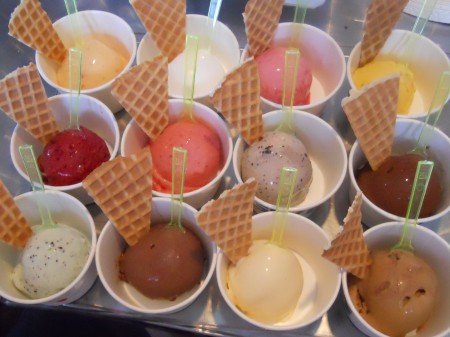 And we always visit the Wine Garden for friendly tastings poured by the OC Wine Society.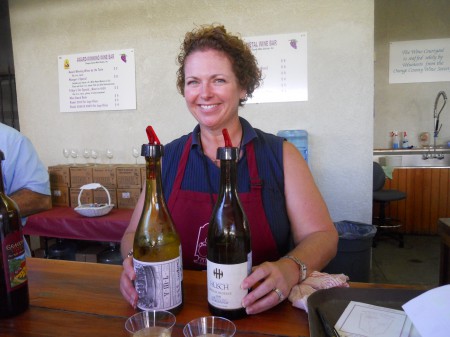 We value the livestock too — Sshhhhhh, don't tell 'em about the food.
With Hercules shown below — Worth more than the Alligator, if you get what I'm sayin'.
View of the OC Fair from the Ferris Wheel at night.
I never want to come down, well, until it's time to eat again.
See you at the OC Fair.