Roasted Peach Ice Cream: Will Never Not Roast 'Em Now.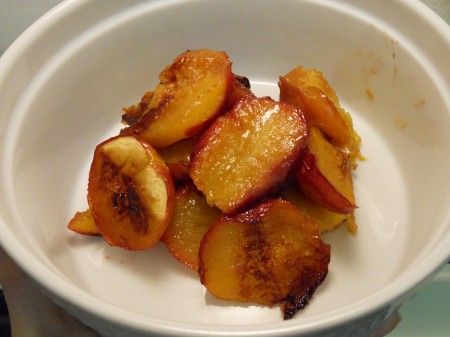 Searching for an adaptable Peach Ice Cream recipe, I came across Sticky Gooey Creamy Chewy's Roasted Peach Ice Cream and it was over and on — I began roasting Peaches.
I had 5 Peaches, 1% Milk, Cream, Sugar & Vanilla on hand and made the best recipe with all. 
Inspired by the linked recipe, I got lucky with the ingredients and measurements used to make the pictured Roasted Peach Ice Cream, and will happily make the same over and over again.
Always wanting to simplify a process, I merely blended the ingredients, and then transferred the mixture to an Ice Cream Maker to churn — And it couldn't have turned out better.
It's crazy good — I'll roast Peaches forever for this Ice Cream.
A new favorite, Roasted Peach Ice Cream is documented below — Try it.
RECIPE:  Halve, pit, and toss 5 – 6 Peaches with Brown Sugar (1 – 2 Tbsps.) and roast them cut side down in the oven at 400° for 25 – 30 minutes, and then set Roasted Peaches aside to cool.  Add cooled Roasted Peaches (with skins) to a blender with 1/2 Cup of Cream, 2/3 Cup of Sugar and 1 Tsp. of Vanilla.  Once well-blended, add 1 Cup of 1% Milk and blend a little longer to combine.  Transfer mixture to an Ice Cream Maker and churn for 30 minutes.  Viola.