Jazzed About Spaghettini's Brunch: It's Not Cheap, But It's Worth It.
Brunch at Spaghettini Fine Dining & Entertainment aka Italian Grill and Jazz Club.
I've liked Spaghettini for years, but hadn't experienced their Brunch.
Thanks to a friend who won Brunch for Two at Spaghettini's, I got to partake.
Spaghettini's Brunch is $49.95 per person for (1) off the menu Entrée and Buffet.
And Bottomless Champagne — Something I always appreciate in a Brunch.
Pictured are just a few of the Entrée Choices (above) and Buffet offerings (below).
It's nice they don't overwhelm with too many options, instead a well-prepared, fine amount.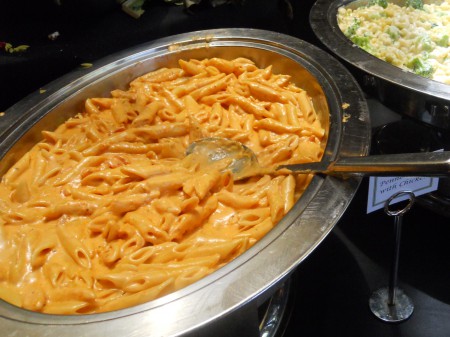 The quality, taste and selection of all made me happy.
Unlimited Champagne with hours to enjoy the Buffet and Entrée makes for a great Sunday.
I particularly liked the Artichoke Dip (below) — It's much tastier than it looks here.
On to Dessert — Again, not all offerings are shown here.  There's a lot more.
One bummer about Spaghettini's Brunch is… No food will be packaged to-go.
I guess Spag's doesn't want you to mow down the Buffet to take your Entrée home for later.
That's what I'd do (written above), but instead I have to think to myself… I don't want to load up on the Buffet so to save room for my Entrée, since I can't take any of it home.  Darn.
See MENU at top to learn more about the Sea Bass, Salmon and Sirloin Steak revealed herein.
The Wave 94.7 broadcasts live from Spaghettini during Sunday Brunch and some danced to the smooth jazz playing in the lounge.  In a Wave giveaway, my friend won the basket above.